Theo nguồn tin của National Federation of the Blind trên trang mạng prweb.com.
National dance festival brings together generations of dance fans, opens career doors, and for banner group, honors a late classmate's memory.
Orlando, FL (PRWEB) June 26, 2014
About 8,000 dance students from around the country are arriving in Orlando, FL this week for Dance The World, one of the nation's largest dance festivals. Aside from dancing on one of the world's best-known stages, students will learn from pros in private rehearsals, parade the streets of the Magic Kingdom, and chase down their dreams of becoming professional entertainers themselves.
The festival brings together more than 90 studios from around the country, including eight from Connecticut, 10 from Pennsylvania, 11 from New Jersey, and dozens from around the South: ranging from Tennessee to Tampa to Terrytown, LA. The event has helped launch the careers of several young dancers like Desiree Cosgrove, who got her first taste of show business while a student at Kicks Academy of Dance in Glenn Mills, PA, and now travels with Disney troupes around the world.
"It wasn't until traveling to Disney with Kicks to perform at Dance The World that I got my initial draw to turn dance into more than just a hobby," Cosgrove said. "Without this small taste of the performing world I may not have had the courage to pursue dancing professionally, or even pursue Disney as a real life career."
"It's the perfect chance to expose these kids to career opportunities in the future," said Kicks director, Kristin Davis. "More than anything, dancing for their parents and grandparents in Disney is something they'll remember for the rest of their lives."
"This is a once-in-a-lifetime thing for these grandparents to join their grandkids in Disney and watch them perform on the greatest stage in the country. It's amazing for them to be able to share this moment," said Courtney Billings, director of the Academy of Dance and Music in Wallingford, CT, whose 47-year-old studio will bring down three generations of dance fans, 300 in all. "It's difficult to find a public stage where there is no competitive element, so Dance The World represents a rare opportunity for us," she said.
The first evening parade will be led by a group from Bedford, MI, whose illuminated fiber-optic dresses will blink in memory of Lauren Yates, a fellow dancer from Miss Lori's Dance Express who lost her battle with cancer in December.
"We've always been Disney children. We broke out in song all the time and tried to have the happiest outlook we could," said Yates' best friend and classmate Bree Elwartoski. "This is almost like us saying… almost like a last goodbye. Everybody is here, including Lauren, and she'll be there with us, we know."
About Dance The World and World Class Vacations
Produced by World Class Vacations, Dance The World is a unique opportunity to perform in front of thousands at Walt Disney World®. Participants dance in parades down Main Street U.S.A., plus enjoy additional performances, private rehearsals, and all the magic Disney has to offer. Founded in 1977, World Class Vacations is among the largest student travel companies in North America, and is a top travel provider for Disney. World Class Vacations has worked with thousands of schools and delivered countless memorable moments during its 35-plus years in the business.
For more information, please visit http://www.wcv.com/dance-world

Media contact: John Moretti / johnrmoretti(at)gmail(dot)com/ tel. (617) 548 8676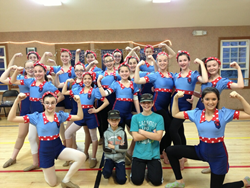 http://www.prweb.com/releases/2014/06/prweb11975964.htm