Theo nguồn tin trên trang mạng của prweb.com.
AMTC grad plans to become the next ANW, happening May 10, 2015.
Atlanta, GA. (PRWEB) April 30, 2015
The American Ninja Warrior (ANW) casting team has officially invited AMTC Grad Ricky Giao Vu (Barber) to take part in the 7th season of American Ninja Warrior. Ricky will compete in the Orlando bracket Qualifier round on May 10th-12th. If successful, he will travel to to Las Vegas for further competition.
ANW is a network television series hosted by Matt Iseman, former NFL player Akbar Gbaja Biamila, and co-host Jenn Brown. The action-packed series follows competitors as they tackle the world's most difficult obstacle courses in qualifying and finals rounds in Los Angeles, Baltimore, Denver and Miami, with the national finals round in Las Vegas, on a four-stage course modeled after the famed Mt. Midoriyama.
In speaking about competing in ANW, Ricky says, "This humbling opportunity alone is a chance for me to really reflect God's glory and share my testimony to a massive scale audience like this, in hopes it'll inspire and motivate more people that their Creator (our Creator Christ) loves them … God loves us!"
Ricky participated in the AMTC's SHINE Winter 2011 Conference at the Gaylord Palms in Orlando, Fla. SHINE is a launching pad for performers who want to make a positive impact in entertainment. At SHINE, Ricky was scouted by 50 – 100 leading agents, managers, casting directors and music professionals from both mainstream and Christian media.
"I'm going for it, all the way as a rookie, but I'm mentally & physically ready for whatever they throw at me. I am focused: Me vs. the Obstacles (nothing else) and I will press that buzzer and become an ANW."
The City Qualifiers are Sunday night, May 10th. The course runs will take place overnight, into the wee hours on Monday morning. The City Finals are Monday night, May 11th. The course runs will take place overnight into the wee hours on Tuesday morning. Only the TOP 30 compete in the City Finals.
To help support Ricky's quest to "conquer Mt. Midoriyama," please visit http://www.gofundme.com/ANWRickyVu.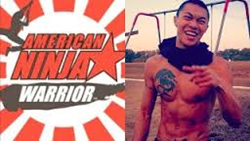 http://www.prweb.com/releases/2015/04/prweb12686951.htm