Theo nguồn tin trên trang mạng của prweb.com.
NEA, Orange County Library System kick off summer reading program
Even though the July Fourth weekend is known for fireworks and the premieres of Hollywood blockbusters, reading is giving movies a Jurassic run for their money.
The National Education Association has partnered with the Orange County Library System to hold read-ins at all 14 branch locations throughout this week for the first-ever "Read Across Orlando." The signature read-in, held today at the Orlando Public Library, inspired hundreds of local students to don red-and-white striped stovepipe hats and read along with Dr. Seuss's famous feline, the Cat in the Hat, and his friends, Thing 1 and Thing 2.
"Many working-class families find it challenging to pay for the steep price tag that comes with enrolling their children into an enriching summer program, but a reading card at a local library is free for everyone," said NEA President Lily Eskelsen García. "That's one of the driving forces why NEA joined the Orange County Library System to launch 'Read Across Orlando.' It's one way we can help fight the widening achievement gaps that can happen when school's out."
Research shows that summer reading is instrumental in fighting the "summer reading slump" or "summer reading slide," the cumulative effect of summer learning differences, which are viewed as a primary cause of widening achievement gaps between students of different socioeconomic levels. In fact, a 2007 report by the National Summer Learning Association found more than half of the achievement gap between lower- and higher-income youth can be explained by unequal access to summer learning opportunities.
"We are thrilled to welcome kids to the library for this special reading event," said Mary Anne Hodel, library director/CEO of OCLS. "It is essential to keep children reading over the summer so they will not fall victim to the summer slide."
The read-ins have provided an opportunity for students to get their first library card, and are critical in helping to foster good reading habits for the summer. Bilingual readings in Spanish also were on the menu—showing that summer reading is important in any language.
The 3 million-member NEA is in Orlando June 26–July 6 for its 153rd Annual Meeting and 94th Representative Assembly, which is expected to attract more than 7,000 educators from around the country. As part of pre-convention activities, NEA holds a Read Across America-styled read-in in the host city.
"The success behind NEA's Read Across America program is its ability to encourage youngsters to develop a healthy love of books by making reading fun," added Eskelsen García. "Although students can learn great things watching educational programming on TV, YouTube and iPad, nothing compares to turning the pages of a good book and letting a child's imagination grow."
NEA's Read Across America, now in its 18th year, is an award-winning reading program that draws more than 45 million people—young and old—to participate annually. Past celebrity participants include First Lady Michelle Obama, Academy Award winners Gwyneth Paltrow and Morgan Freeman, country music superstar Garth Brooks, Jessica Alba, Uma Thurman, and tennis superstar Serena Williams.
For more information and a full listing of scheduled events, go to nea.org/ra

Follow us on Twitter at @NEAMedia and #neara15
# # #
The National Education Association is the nation's largest professional employee organization, representing nearly 3 million elementary and secondary teachers, higher education faculty, educational support professionals, school administrators, retired educators and students preparing to become teachers. Learn more at http://www.nea.org.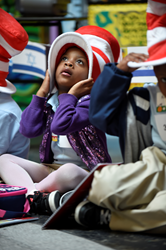 http://www.prweb.com/releases/2015/07/prweb12825176.htm