Teak Neighborhood Grill Unveils Unique & Tasty New Menu Items Taking Their Top-Rated Cuisine To The Next Level
Theo nguồn tin trên trang mạng của prweb.com.
From Waffle Burgers to Wasabi BBQ Salmon, the Award-Winning Central Florida Eatery Serves Up a Fresh Plate of Exciting New Menu Offerings
ORLANDO, FL (PRWEB) SEPTEMBER 14, 2015
Voted Best Burger, Top 10 Burger Joint and a Must Do in Central Florida amongst other countless recognitions, "Everyone's neighborhood grill" Teak Neighborhood Grill announces the launch of a new menu featuring numerous exciting, innovative and delectable dishes made fresh daily to add to Teak's already renowned menu items, which has made this Metrowest community hot spot a favorite amongst foodies, locals and visitors near and far. Just in time for football season, Teak's new menu welcomes five more original burgers, three sandwiches, two desserts and several starters and salads sure to satisfy everyone's taste buds.
Adding to Teak's impressive burger roster, the updated menu showcases several new iconic burgers, including the "Waffle Burger" with melted American cheese over a medium egg and applewood smoked bacon in between two homemade mini Belgium waffles. The "OMG Burger" features an unforgettable blackened patty topped with melted bleu cheese crumbles, Teak's signature chips, balsamic reduction and bibb lettuce on a pretzel bun. Teak's newest entrée, "Wasabi BBQ Salmon," comes complete with wasabi mashed potatoes, topped with grilled onions, asparagus and roasted cherry tomatoes, finished with grilled salmon and accompanied by Teaks sweet and tangy BBQ glaze. For those looking to beat the Florida heat, Teak's cool new "Summer Strawberry & Spinach Salad" made with local fresh baby spinach, dried strawberries, candied walnuts, fresh mozzarella, dried cranberries, applewood smoke bacon and citrus vinaigrette dressing will definitely do the trick. Other new items include:
Harry Caray Burger
The Blackstone Burger
Dirty Bird (Turkey Burger)
Pulled Pork Club
Italian Press Sandwich
Wrap it Up Veggie
Chicken Sa-Teak
Loaded Peirogies
Large and in Charge Meatloaf
Zesty Margarita Flat
Side Winders
Trifle of the Day (Dessert)
Trio Bandes (Dessert)
"We are excited to add all these original menu items, each made from scratch here at Teak and with the freshest ingredients," says Owners Chris Meyer and Jon Proechel. "Executive Chef Philip Romano really raised the bar to add new flavor profiles and create innovative dishes that we look forward to sharing with our loyal guests and hope to welcome many new ones."
Nestled in the Hamptons living complex of Southwest Orlando, Teak Neighborhood Grill has been serving up award-winning cuisine and a comfortable dining atmosphere since April of 2010. Specializing in over 30 hand-crafted burgers, over 60 craft beers and bottles combined and signature cocktails to choose from, Teak prides itself on using fresh, local and organic ingredients in every savory dish, while providing a relaxing and enjoyable environment that guests return to time and time again. Entertainment seekers can dine inside or out and enjoy Teak's huge covered patio, 30 HD TVs and 140" projector screen to watch any game with Teak's NFL ticket. (Hint: Not seeing your favorite burger on the new menu? Inquire about Teak's password-only underground burger menu for these and even more original and tasty meal options.)
Teak is open for lunch, dinner, happy hour and now Saturday and Sunday brunch and serves a full menu daily until 2am. Experience Teak at 6400 Time Square Ave, Orlando, FL 32835. For more information, menus, weekly specials and more, visit http://www.teakorlando.com, http://www.facebook.com/teakorlando or call 407-313-5111.
###
Media Contact: Ilene Lieber, 321-277-7812, ilene(at)passionprconsulting.com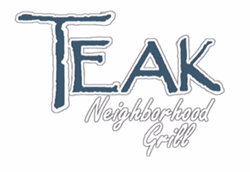 http://www.prweb.com/releases/2015/09/prweb12958969.htm