30 New Jobs Coming to Orlando on November 30th
Theo nguồn tin trên trang mạng của prweb.com.
Sunrise Detox will be hosting a job fair November 30th through December 3rd for their Orlando facility.
ORLANDO, FL (PRWEB) NOVEMBER 20, 2015
Sunrise Detox will be hosting a job fair at the Hilton Orlando Lake Buena Vista beginning November 30th. Job seekers will have the opportunity to meet and interview with management, as well as speak with representatives from the new Orlando facility to learn more about the company.
Many jobs are available including, nurses, counselors, CD Techs, culinary staff, chiropractor, patient transport drivers, and a variety of administrative and maintenance staff.
The job fair will take place Monday, November 30th at 8am and will continue through Thursday, December 3rd at the Hilton Orlando, 91751 Hotel Plaza Blvd in Lake Buena Vista, Florida.
If you would like a career with a fast growing, private company operating several substance abuse detoxification facilities in Florida, Georgia, and New Jersey, attend this job fair.
Sunrise Detox Orlando is a registered healthcare facility, as such pre-employment drug testing and background screening are mandatory. A minimum of two years clean and sober are required for consideration. Minor charges may be overlooked if disclosed honestly, based on clinical discretion.
For more information on the Sunrise Detox Orlando job fair, please visit https://sunrisedetoxorlando.com/blog/sunrise-detox-jobs/.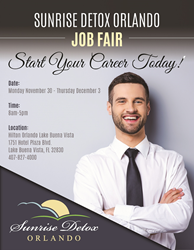 http://www.prweb.com/releases/2015/11/prweb13095921.htm