Theo nguồn tin trên trang mạng của prweb.com.
Call the Pay for Play Hotline from 7am to 7pm and Request Any Song for a Small Donation
ORLANDO, FL (PRWEB) NOVEMBER 20, 2015
101.1 WJRR FM Orlando is teaming up once again with Mel's Bad Girls Club (MBGC) Charitable Organization in an effort to raise money and awareness for Hope Helps this holiday season by turning over the WJRR airwaves to the listeners of Central Florida. How it works? Call the WJRR Pay for Play hotline on Friday, December 4, 2015 from 7am to 7pm at 407-916-7325, make a $20 donation or more and request ANY song… Then, tune in to WJRR to hear it! Plus, local business sponsorships are available for the entire day. All proceeds raised will benefit Hope Helps, whose mission is to prevent and reduce homelessness in Central Florida by equipping individuals and families to become self-sufficient through housing, outreach, prevention and education. For more information, sponsorship opportunities and to request a song, visit http://www.WJRR.com.
About Mel's Bad Girls Club
Mel's Bad Girls Club is a registered 501(c)3 non-profit organization founded in Orlando by 101.1 WJRR radio personality Mel Taylor. Over the last nine years MBGC has committed to making a difference within the Central Florida community. MBGC's vision is to help individuals in the local community while bringing a fun, fresh perspective to volunteer work. Through hosting a variety of events and fundraisers, they provides locally based Central Florida charities, families and individuals with items of necessity, volunteer assistance and monetary contributions. MBGC hosts an annual adult prom, golf tournament, art shows, happy hours and toy/food drives to bring people together and give back to the community. For more information, visit http://www.MelsBGC.org.
WJRR Contacts:
Lea "LT" Reynolds, WJRR Assistant Program Director/Promotions Manager, 407-916-8406, LT(at)wjrr(dot)com; Rick Everett, WJRR Program Director, 407-916-8126, rickeverett(at)wjrr(dot)com
Media Contact:
Ilene Lieber, Passion PR Consulting, 321-277-7812, ilene(at)passionprconsulting(dot)com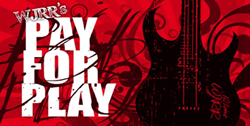 http://www.prweb.com/releases/2015/11/prweb13095428.htm