CheapOair Xếp Orlando Hạng 8 trong 10 Nơi Đứng Đầu Khi Đi Du Lịch Hoa Kỳ Trong Lễ Chiến Sĩ Trận Vong 2015
Theo nguồn tin trên trang mạng của prweb.com.
CheapOair Announces Top Destinations for Memorial Day Weekend Travel
Leading Online Travel Agency's Data Shows Airfares have decreased 10% Over the Past Year
NEW YORK, NEW YORK (PRWEB) MAY 03, 2016
CheapOair, the top flights-focused hybrid online travel agency, announced today the top ten destinations its consumers are traveling to on Memorial Day weekend. After a long winter season, CheapOair's data shows that a majority of travelers are taking advantage of the low airfares available to welcome the summer season over the long holiday weekend.
"With a decrease in airfare prices leaving on the holiday weekend this year, our data is showing that travelers are eager to book flights to popular destinations including Manila, Philippines, Miami, FL and Cancun, Mexico," says Tom Spagnola, CheapOair's Senior Vice President of Supplier Relations. "With the average cost of airfare coming in at around $447, I'd recommend taking advantage of these prices leading up to Memorial Day weekend."
The largest price decrease seen between 2015 and 2016 was reflected in bookings for Orlando, FL, showing a 16% overall decrease in airfare costs. CheapOair's data shows that those who may be looking to pay the lowest prices for their trip should consider Atlanta, GA as a destination, as the average airfare costs $269. Manila, Philippines came in at the most popular destination for departures on the holiday weekend, with a 10% decrease in airfare, rounding out at $955.
Additionally, this year's data shows that the majority of consumers booking flights for the holiday weekend are females between the ages of 21 and 30, followed by men and women between the ages of 51 to 60 years of age.
"Memorial Day Weekend begins the peak season for warm-weather travel. Airlines are adding capacity to some very exciting destinations across the US including Las Vegas, Nevada, Hawaii and Florida. Additionally, with the extreme decrease in airfare costs over the past year, more consumers are able to afford travel to the destinations of their choice, whether it be domestic or international, " mentions Spagnola.
The fares referenced are averages, calculated based on bookings made beginning January 1st, for travel anytime between May 26 and May 31 2016.
Travelers can sign up to receive daily travel deals to various destinations, including the top Memorial Day weekend locations for 2016, by making a CheapOair profile at CheapOair.com. For more information, please visit CheapOair.com, CheapOair.com/mobile, or check out CheapOair's Miles Away blog for travel tips and trends.
About CheapOair
CheapOair is a flights-focused hybrid travel agency that enables consumers to book online, on mobile apps, by phone or live chat. CheapOair (http://www.cheapoair.com, 1-800-566-2345) bridges the gap between an online and traditional travel agency with certified travel agents available 24/7 to help find deals and offers to destinations worldwide on over 450 airlines, 150,000 hotels, and 100s of car rentals. Partner airlines benefit from access to CheapOair's broad customer base that books high yield international travel and add-on ancillaries at above the industry average. Follow CheapOair on Facebook and Twitter to learn how to travel the world for less.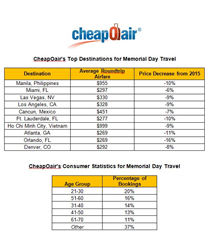 http://www.prweb.com/releases/2016/04/prweb13347218.htm