Sen. Marco Rubio Receives Contribution From the Office of Lloyd M Claycomb
Theo nguồn tin trên trang mạng của prnewswire.com
Businessman, Philanthropist, and fellow Republican Lloyd Claycomb donates to Rubio Senate campaign
(PRWEB) NOVEMBER 04, 2016
As America is entering the final round of the highly-anticipated and debated Elections 2016, Republican nominee – Sen. Marco Rubio is staying on his course this summer and running for re-election for Florida Senate. The Florida Republican has made a point of getting around the state and has actively sought out to start a dialogue with local and national business owners, farm groups and communities.
A week before Florida's presidential primary, in a private phone call Rubio solicited a generous contribution from his fellow Republican supporter and current member of 2016 State Victory Finance Chairs – Mr. Lloyd M. Claycomb. This comes in line with the Trump campaign continuing their collaboration and commitment as part of the on-going effort to raise the support needed to win the White House and expand a nationwide network of dedicated supporters and representatives across state borders.
Lloyd Claycomb's contribution to Sen. Marco Rubio's campaign for re-election for Florida Senate alongside others is bound to give the Republican candidate an edge in his race against Patrick Murphy. That being said, the race in Florida isn't anywhere as close as those in the states that will be key in determining control of the Senate. Rubio is up by a little over 5 percentage points while the margins in Indiana, Missouri, Nevada, New Hampshire, North Carolina and Pennsylvania, in contrast, are all within about 2 percentage points.
Rubio's lead has never dipped below 4 percentage points and has rarely exceeded 7 points with consistent agreement among individual polls. The sheer number of supporters interested in contributing to his re-election campaign, apart from Lloyd Claycomb, is a clear representation of the growing influence of the Republican Party in the southern states. The collective efforts of fellow Republican supporters is expected to build up Rubio's image as he cruises to victory with nearly 72% of the vote in his bid for the Republican nomination to seek a second term.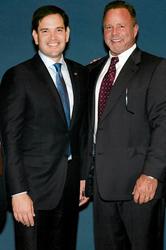 http://www.prweb.com/releases/2016/11/prweb13822841.htm