Theo nguồn tin Orion Travel Technologies trên trang mạng của prweb.com.
Advertisers are very excited about the possibility to promote on the sides of this innovative lighted carry-on luggage
ORLANDO, FL (PRWEB) NOVEMBER 23, 2016
Orion Travel Technologies, Inc. announced today that is has released the first Patent Pending "See Me Hear Me" talking and fully lighted carry-on luggage that is not only a perfect travel companion but it is also a perfect advertising vehicle! The new innovative digital luggage spurs the question that advertisers someday could pay for traveler's luggage fees. The only luggage in the world that sings, talks, laughs and is outfitted with a built-in coordinated light display.
The 20-inch carry-on attracts attention where ever it goes from airports, to train stations, cruise ports to hotels and resorts around the globe. Each carry-on is out fitted with a built in light source that lights up the luggage and is coordinated with built in speakers. The special luggage comes with up to four prerecorded songs or messages chosen by customers.
The "See Me Hear Me" carry-on comes with popular pictorial content on one side and the possibility of advertising content and messages on the other side, if one chooses. Each customer pays for their hard- shell four-wheel carry-on. In the very near future starting in the spring of 2017 customers will have the opportunity to choose from a plethora of marketers? Those advertisers could offer heavy discounts of their own products to even the payment of Baggage fees? Airline participants could move you up to first class if available and could offer other discounts to alleviate the pain from paying all those fees.
The "See Me Hear Me" carry-on comes with a two-year warranty. Customers can also upgrade when pre-ordering their carry-on. A digital scale system, built in WIFI-hotspot, and a charging station is available for order.
"See Me Hear Me" carry-ons will be available with music tracks, famous movie lines, along with licensed content. Orion is in the process of talking to many licensed companies to bring all your favorites to the images of the luggage.
Presently, you can order pictorial content in the form of World Flags with Country Anthems, Zombies, and animated lighted travel posters. In the near future, customers will order from their favorite super heroes, to movie favorites, to their favorite sports teams and music artists.
"Orion wanted to bring the world a special gift, we wanted to make travel fun again, and this special carry on does just that! It brightens the day of every traveler. It has become, unexpectedly, a conversation piece where folks are putting down their devices and actually having conversations!" Said Gary German, Founder of Orion Travel Tech, Inc.
ABOUT The SEE ME HEAR ME LUGGAGE is a division of Orion Travel Technologies, Inc. a Honolulu, Hawaii Corporation. Orion is an international corporation that is currently in 15 countries worldwide. Orion is has nine patent pending travel technology footprints that are positioned for global travelers. Orion is everything TRAVEL under one roof, in one place that gives most travelers around the globe an all-inclusive destination for all their travel needs. You can reach Gary German, the Founder directly at 407-574-6649-office, 407-496-4862-cellular or gary.german(at)oriontraveltech.com.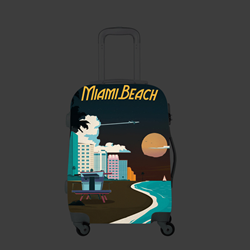 Note: We are not responsible for typo error, price change, substitute item, or available of item from online ads.
Lưu ý: Chúng tôi không chịu trách nhiệm về lỗi ấn, thay đổi giá, hàng thay thế, hoặc có sẵn mặt hàng quảng cáo.
http://www.prweb.com/releases/2016/11/prweb13870337.htm