Theo nguồn tin Ritchie Bros. trên trang mạng của prweb.com.
Chris MacDonald's Memories of Elvis in Concert is coming to Plaza Live Orlando February 18th with a dynamic tribute to the King of Rock-n-Roll
(PRWEB) FEBRUARY 03, 2017
Chris MacDonald's Memories of Elvis in Concert is coming to The Plaza Live in Orlando on Saturday February 18th with a special tribute highlighting the King's Early Years, Movies and the Vegas Concerts. MacDonald states with a nod to Daytona 500 coming up at the end of the month, "Elvis was cool, winning races, beating up bad guys, getting a girl or two and singing songs like Spin Out and Viva Las Vegas", songs that are in the set list for Chris MacDonald's Memories of Elvis at the Plaza Live Orlando. With special guest star Elvis Original Drummer D.J. Fontana and a full production 8 pc band and dancers, Chris MacDonald will bring back the memories of an American icon and his music. D.J. Fontana, The Beat Behind the King, played drums for Elvis on Speedway, Spin Out, Viva Las Vegas and most of the other 33 Elvis movie sound tracks, along with all of the early television performances including the Ed Sullivan ,Steve Allen and Milton Berle shows. D.J was also the drummer on all of the legendary hits of the 1950's and 1960's including Hound Dog, Don't Be Cruel, Blue Suede Shoes Jailhouse Rock and many more. D.J Fontana will be sharing behind the music stories and performing some of those hits live on stage with Chris MacDonald and his band.
With the historical references and interaction with the audience, Chris MacDonald's Memories of Elvis is a dynamic full production tribute that shares the incredible story of the "shy humble country boy who became the King of Rock-n-Roll" through highlights of several stages of his iconic career: the early years, the movies, the black leather '68 comeback, the white fringe '70 Vegas concerts.
With this national touring production, you are in for a big Las Vegas-style show with dynamic band and singers as Chris MacDonald draws his audience in with the look, sounds, and nuances that made Elvis the King. An accomplished and experienced entertainer, Chris has performed in Las Vegas, Branson, Missouri and with the famous "Legends in Concert" stage productions.
Adding to the authenticity of his tribute, Chris has the ultimate honor of being the "Only Tribute Artist hired by Elvis Presley Enterprises to perform at Graceland's Heartbreak Hotel." The show is presented not as a parody or an overdone impersonation but as a natural, heartfelt tribute to a Legendary entertainer and his music.
Chris MacDonald promises "A fun night of great music and memories celebrating the life and music of the King of Rock-n-Roll" February 18th at the Plaza Live in Orlando.
Plaza Live Orlando
425 Bumby Avenue
Orlando, Florida 32803
407-228-1220
http://www.plazaliveorlando.com
Ticket costs: $28-$48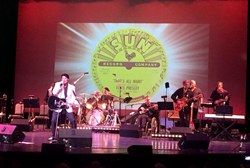 Note: We are not responsible for typo error, price change, substitute item, or available of item from online ads.
Lưu ý: Chúng tôi không chịu trách nhiệm về lỗi ấn, thay đổi giá, hàng thay thế, hoặc có sẵn mặt hàng quảng cáo.
http://www.prweb.com/releases/2017/02/prweb14035704.htm