Theo nguồn tin trên trang mạng của prweb.com.
Winter Park's award-winning American bistro is making Mondays the day for 'meatups' with some well-done burger specials
ORLANDO, FLA. (PRWEB) MARCH 20, 2017
Romacorp, Inc., parent company of TR Fire Grill, announces a real burger merger that bridges the gap between the tradition of Sunday Funday and Taco Tuesday with the launch of Monday Bunday. Guests no longer have to worry about the Monday blues as they enjoy handcrafted gourmet burgers and crispy fries for just $8. Additionally, guests have the opportunity to experience TR Fire Grill's community-favorite "Local Hour" all Monday long with specials on award-winning craft cocktails, wine, beer and featured small bites.
"TR Fire Grill's burgers are the perfect way to take your Monday from manic to marvelous," said Jim Rogers, Chief Marketing Officer of Romacorp, Inc. "With Monday Bunday, fans have something to look forward to as their workweek begins, whether it's heading out to lunch with coworkers or grabbing a cold craft beer and a burger afterhours."
Guests will sink their teeth into the "½ Pound American Burger," made with short rib, brisket and chuck, topped with caramelized onions, greens, tomatoes and TR Fire Grill's signature burger sauce. Veggie lovers will grill their friends to try the "Quinoa & Black Bean Burger," which sacrifices no flavor and features white American cheese, fresh greens, caramelized onions and house-made tomato jam.
Fans can let themselves come bun-done by also enjoying Local Hour, available all day on Mondays, with sizzling specials on local and regional TR Fire Grill partners such as Winter Park Distilling, St. Augustine Distillery, JDub's Brewing Company and Swamp Head Brewery. Don't want to limit your TR Fire Grill visit to just one day a week? Not to worry! TR Fire Grill shines the spotlight on other days of the week with Thursday's Dip into the Weekend, a chance to customize your very own Oven Baked Pizza Dip, Brunch every Saturday & Sunday from 11am – 2pm featuring $11 endless mimosas (including Yappy Days, an opportunity for fans to bring their pups to the restaurant with them!), Local Hour every day 3pm – 6pm featuring specials on beer and spirits from local breweries and distilleries, and finally Magic Time from 3pm – game end during every home and away Orlando Magic game.
About Romacorp, Inc.
Romacorp, Inc. is the parent company of TR Fire Grill, a new chef-inspired American bistro located in Winter Park, Florida and Honolulu, Hawaii, with an additional location planned for Kuala Lumpur, Malaysia later in 2017. Launched in November 2015, TR Fire Grill is an award-winning restaurant recognized as Best New Restaurant (2016 Winter Park Maitland Ovations Award), Best Craft Cocktail Bar (2016 Orlando Sentinel Best Bets Award), Best Happy Hour (2017 Winter Park Maitland Ovations Award) and for Best Cuisine in Orlando (2015 and 2016 OpenTable Awards). TR Fire Grill is a proud partner of the Orlando Magic (http://www.nba.com/magic/) and with the Make-A-Wish Foundation (http://www.cnfl.wish.org), one of the world's leading children's charities chartered to grant the wishes of children with life-threatening illnesses across Central and Northern Florida. For more information about Romacorp, Inc. and our new TR Fire Grill concept, visit http://www.trfiregrill.com.
For more information about TR Fire Grill franchising opportunities, please visit http://www.trfiregrillfranchise.com or call (866) 981-0586.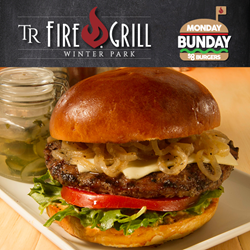 Note: We are not responsible for typo error, price change, substitute item, or available of item from online ads.
Lưu ý: Chúng tôi không chịu trách nhiệm về lỗi ấn, thay đổi giá, hàng thay thế, hoặc có sẵn mặt hàng quảng cáo.
http://www.prweb.com/releases/2017/03/prweb14161169.htm