Theo nguồn tin trên trang mạng của prweb.com.
The new Balmoral Resort near Orlando, Florida opened this weekend and coincided with groundbreaking for new soccer academy attended by Brazilian superstar player Ronaldo in same resort. Resort features luxury vacation homes, water park and other amenities.
HAINES CITY, FL (PRWEB) APRIL 05, 2017
Balmoral Resort Florida opened its gates to visitors Friday, in Haines City, Florida, to great fanfare in a ceremony attended by over 300 guests including resort developer Garrett Kenny of Feltrim Group, Congressman Darren Soto of Florida's Ninth District, and coincided with the groundbreaking of a new R9 Soccer academy at the same resort by Brazilian superstar player Ronaldo, who also participated in the groundbreaking.
Balmoral is a new vacation home resort comprising of almost 250 mostly single-family style homes, each with its own private pool. What makes this resort different from the average vacation home resort is the over $5 million in amenities including a water park, wedding pavilion, resort pool and spa, games room, restaurant, along with many lakes and gardens. Not only this, the new under construction R9 soccer academy makes Balmoral somewhat unique as a vacation home resort.
The weekend's events opened the first phase of the Balmoral Resort. Phase 1 consists of the amenities area plus over 100 vacation homes. The homes were predominantly purchased abroad by buyers from the UK, Asia and South America.
Congressman Soto stated at the opening of the resort; "I'm pleased to extend my to congratulations to everyone here today at the opening of the Balmoral Resort! The Haines City Chamber of Commerce, Feltrim Group, and everyone here deserve credit for bringing this beautiful resort to our district."
According to Feltrim CEO Garrett Kenny, "Balmoral will contribute over $125 million to the local economy in property taxes initially, but with the R9 Soccer Academy and our plans for a private school and basketball academy at this location we see that increasing substantially." Congressman Soto remarked, "The Balmoral Resort is already contributing to the local economy, through construction jobs and continuing employment at the resort. In addition to its many amenities for visitors and residents alike, we are thrilled to see the R9 soccer academy, the first of its kind in Polk County."
The soccer player Ronaldo participated in the groundbreaking for his new R9 academy at Balmoral along with Garrett Kenny. The academy will feature a full-size professional soccer field, two training fields, classrooms, and other facilities. Mr. Kenny explained why he wanted to bring the R9 to Balmoral. "We chose to bring R9 to Balmoral, because firstly it is associated with one of the greatest soccer players of all time and secondly because we were very interested in the fact that R9 isn't just a soccer academy but it also has excellent programs to help develop young people in all aspects of their lives through the use of sport such as building character and in setting goals, so in that way R9 really fits in with our larger vision for Balmoral and what we are trying to do here in Haines City."
The R9 academy at Balmoral is due to open by the end of 2017. Phase I of the Balmoral Resort is now open and accepting guests, while sales of vacation homes in the Phase II of the resort are now underway.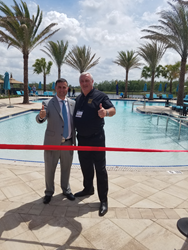 Note: We are not responsible for typo error, price change, substitute item, or available of item from online ads.
Lưu ý: Chúng tôi không chịu trách nhiệm về lỗi ấn, thay đổi giá, hàng thay thế, hoặc có sẵn mặt hàng quảng cáo.
http://www.prweb.com/releases/balmoral/grandopening/prweb14212363.htm