Theo nguồn tinTopTenRealEstateDeals.com trên trang mạng của prweb.com
A new kind of Florida resort condo designed for full-time living, vacations or easy rental is featured this week at TopTenRealEstateDeals.com.
POMPANO BEACH, FLORIDA (PRWEB) JULY 07, 2017
"Florida's New Resort Condos"
As monthly winter rental rates in Florida soar past $15,000 and much higher, many snowbirds are opting for a new breed of condo development that they own and can use whenever they wish, but are easy to rent to vacationers when they go back home.
The condo-resort-hotel concept is surging in vacation towns such as Miami Beach, Orlando and Las Vegas that offers the advantages of traditional condo ownership but adds the opportunity for substantial rental income when the owners are gone. Although many people are unfamiliar with the concept, it is common in resort areas including the Ritz-Carlton, MGM Grand and Trump Hotels. Many of today's top luxury brands now offer full or part-time residences with the option of a rental program.
For many people looking for a Florida vacation condo, a condo hotel located at the ocean or near the Orlando amusement parks is a better fit than a traditional condo. The idea is that owners can use it as much or as little as they want and rent it to other vacationers when they are gone, and the rental income will usually cover maintenance fees and property taxes plus frequently turn a profit. With almost 100 million annual visitors from all over the world, Florida has seen a number of new resort condos from some of the world's top hotel brands. In Fort Lauderdale and Miami Beach, several resort condo projects on the ocean are under construction or recently completed including Four Seasons, SLS Hotels and Conrad Hilton. Prices start around $1 million.
Near Disney World in Orlando, something more affordable and targeted to families recently opened its first phase featuring two and three bedrooms, fully furnished, three swimming pools, spa, fitness center, restaurant and two bars on Lake Austin. Named by "U.S. News & World Report" as one of "the year's most exciting openings," the Grove Resort will soon expand to include more dining options and a water park with a winding lazy river, surf simulator and water slides. Prices range from the upper $200s to the $400s.
The choice of a traditional or condo hotel usually depends on how the owner plans to use it. Many real estate agents say that a condo designed to maximize for easy rentals to vacationers, in addition to possible tax advantages and appreciation, often makes more sense than a traditional condo. A vacation condo that generates good income, is professionally managed and associated with Florida's top brands and developers also eliminates many of the hassles involved with the maintenance and security worries of a traditional condo.
Visit TopTenRealEstateDeals.com for more historic, celebrity and spectacular homes and real estate news.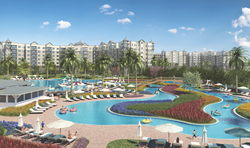 Note: We are not responsible for typo error, price change, substitute item, or available of item from online ads.
Lưu ý: Chúng tôi không chịu trách nhiệm về lỗi ấn, thay đổi giá, hàng thay thế, hoặc có sẵn mặt hàng quảng cáo.
http://www.prweb.com/releases/2017/07/prweb14488255.htm