Theo nguồn tin K1 Speed trên trang mạng của prweb.com
Experience the thrill of racing in the dark starting Friday, September 22nd from 8pm to 10pm ET.
IRVINE, CA (PRWEB) SEPTEMBER 22, 2017
K1 Speed in Orlando is now the second center to offer Glo Karting™. The two-track center will feature glow-in-the-dark barriers and go-karts. Black lights will shine down on the track illuminating anything that glows. The first (10) ten guests that arrive at the Orlando center at 8pm ET will receive a Free Glo Karting™ Race!
Glo Karting™ Schedule:
Monday, Wednesday and Friday from 8pm to 10pm ET.
K1 Speed Orlando is the place for thrills and excitement for all ages. Open seven days a week, there is no better place to experience wheel-to-wheel racing. The entertainment venue features two distinct race tracks; which allows racers to test their skills on two separate layouts. Ultimately creating a racing experience that is second to none.
The Orlando center is a great place to host a birthday party, special event or corporate meeting. In addition to the professionally designed tracks and zero-emission go-karts, the venue also has a spacious lounge, snack bar, meeting rooms and Highway 66 Mini Bowling.
For more information, visit http://www.k1speed.com
About K1 Speed:
K1 Speed was founded in 2003 and is the nation's largest indoor kart racing chain. Each facility boasts 50,000-90,000 sq. ft. of space, which feature real road courses, meeting rooms, snack bars and spacious lobbies with genuine racing memorabilia. Visitors can take advantage of a variety of different race packages to race against their friends or the clock. K1 Speed can accommodate 10 to 800 guests and offers a unique venue for corporate functions, team building events, birthday parties, bachelor parties or other private ceremonies.lorida's only statewide economic development organization dedicated toward Hispanic business owners and is ranked by the US Hispanic Chamber of Commerce and MBE Connect Magazine as one of the top five Hispanic chambers in the country. Visit http://www.FSHCC.com.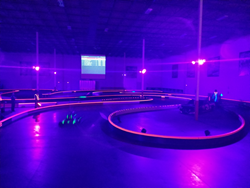 http://www.prweb.com/releases/2017/09/prweb14723708.htm