Theo nguồn tin trên trang mạng của prweb.com
Exhibition of Animatronic Dinosaurs to open on I-Drive next to Titanic: The Artifact Exhibition
ORLANDO, FLORIDA (PRWEB) OCTOBER 05, 2017
Premier Exhibitions, Inc. (OTCQB:PRXIQ), the leader in traveling museum-quality exhibitions, today announced its newest attraction, Extreme Dinosaurs: The Exhibition will provide visitors the opportunity to discover the roar and might of the Mesozoic Era like never before! Extreme Dinosaurs: The Exhibition will open in Orlando, 7220 International Drive, on October 12, 2017.
Specially designed for Orlando, this immersive exhibition allows guests to come face-to-face with animatronic dinosaurs that roar, snarl, open their jaws, blink their eyes, move their limbs and more. Gaze at a towering Gigantoraptor; watch the battle of Velociraptor and Protoceratops; and marvel at the "King of the Dinosaurs" the ferocious, Tyrannosaurus rex.
In addition, real and replica fossils of these fascinating creatures are on display along with five full-size dinosaur skeletons, including the Mamenchisaurus, Yangchuanosaurus and the Monolophosaurus.
Educational and interactive activities are also included in the exhibition. Children can explore their inner paleontologist in the dig site, learn about dinosaur anatomy through a large-scale puzzle, get hand-to-teeth-to-tail club with some touchable fossils and compare their weight to a dinosaur.
"Premier is thrilled to introduce Extreme Dinosaurs: The Exhibition as a specifically curated hands-on experience for the Orlando community. This larger-than-life exhibition integrates both classic dinosaurs and recent discoveries behind predator/prey relationships into one show, using paleontological findings from around the globe. Our team prides themselves on executing family-friendly entertainment coupled with immersive educational activities and we look forward to bringing another exceptional opportunity to International Drive." said Katherine Seymour, vice president of marketing and operations for Premier Exhibitions, Inc.
"Extreme Dinosaurs: The Exhibition presents many of those encounters that we've all been fascinated with, whether it's been in movies, books, graphic novels or classic comics. We're going to see who fights who and what special physical features may have given an advantage to the winner. We all have preconceived ideas about which creatures typically conquered the other, however, scientists are discovering many David and Goliath outcomes in the prehistoric world," said Teresa White, curator for Extreme Dinosaurs. "The featured dinosaurs had distinct and clever survival tactics and Extreme Dinosaurs has illustrated these unique characteristics to show some surprising outcomes."
Premier Exhibitions specializes in pairing quality entertainment with interactive educational experiences enhanced by accompanying genuine artifacts. Notable exhibits include Titanic: The Artifact Exhibition, BODIES…The Exhibition and Saturday Night Live: The Experience. Its latest exhibition, Extreme Dinosaurs: The Exhibition, will feature many dinosaur favorites along with some lesser known predators and prey and will uncover common myth busters and unlikely battle champions.
Extreme Dinosaurs: The Exhibition will open October 12 at 7220 International Drive next to Titanic: The Artifact Exhibition. For more information, please visit
http://www.dinosorlando.com or 888.501.DINO(3466).
Tickets are now on sale at http://www.dinosorlando.com
$16.95 Adults (13 and older)
$14.95 Seniors (65+)
$14.95 Students with ID
$11.95 Kids (4-12)
3 and under free
Combo pricing with Titanic: The Artifact Exhibition also available
About Premier Exhibitions, Inc.:
Premier Exhibitions, Inc. (OTCQB:PRXIQ), located in Atlanta, GA, is a major provider of museum quality exhibitions throughout the world and a recognized leader in developing and displaying unique exhibitions for education and entertainment. The Company's exhibitions present unique opportunities to experience compelling stories using authentic objects and artifacts in diverse environments. Exhibitions are presented in museums, exhibition centers and other entertainment venues. Additional information about Premier Exhibitions, Inc. is available at http://www.prxi.com.
###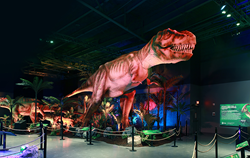 http://www.prweb.com/releases/2017/10/prweb14758065.htm