Theo nguồn tin rên trang mạng của prweb.com
America's Escape Game was founded in April of 2015 and is located in the heart of International Drive in Orlando, Florida. It has served more than 150,000 customers since it first opened its doors.
ORLANDO, FL (PRWEB) NOVEMBER 21, 2017
Orlando, Florida based America's Escape Game LLC, the leading franchised escape game entertainment business in the USA, featured in the March issue of Franchise Times, today announces the sale of its flagship International Drive franchise location, an Orlando, FL, landmark attraction.
Alex Reece, the CEO of America's Escape Game has related, "We are very pleased to announce the latest addition to our franchise family! Dr. Subdoh Debnath will be leading the team at the I-Drive location and we have no doubt that he is ready to add value and expand the already thriving business. There are many hardworking and talented people that have joined forces to build this fun and family-focused experience. That alone has strongly contributed to the winning success that it has become known for today. We have chosen to focus on the franchise market place in response to the hundreds of requests we have received from prospective business owners here in America and around the world. This 7-figure transaction demonstrates not only the strength of our brand, but also the vibrant demand for the escape game genre."
About America's Escape Game
The award-winning America's Escape Game (AEG), headquartered in Orlando Florida, has taken the entertainment industry by storm and is the worldwide leader in high quality immersive escape game entertainment.
Escape games are an incredibly popular form of entertainment and education, with a group of 2-12 are locked in a themed room to work together and use their mental, physical and personal abilities to solve puzzles, decode clues and figure out how to escape within a 60-minute period.
America's Escape Game is proud to have hosted corporate team building events with some of the world's most prestigious companies including Disney, Lockheed Martin, FedEx, International Paper, Enterprise Rent-a-Car, PepsiCo, Universal Studios, and many more.
Michael Seid, Chairman of MSA Worldwide, and author of Franchising for Dummies comments that "America's Escape Game is the freshest and most exciting new concept to come to the franchising arena in a long time. There is no doubt that AEG will meet with even greater success, in the U.S. and around the world as they expand this franchised brand."
AEG continues a franchise expansion plan across the country, with current target markets including Atlanta, Charlotte and Miami.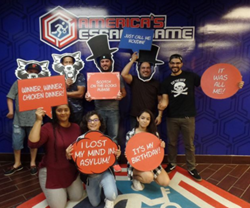 http://www.prweb.com/releases/2017/11/prweb14938257.htm