Theo nguồn tin trên trang mạng của WonderWorks hay prnweb.com.
ORLANDO, FLA. (PRWEB) JANUARY 25, 2018
This week's NFL Pro Bowl matchup between the AFC and NFC's star players in Orlando is being seen from a whole new perspective thanks to a new app that lets celebrities, athletes, and entertainers engage directly with their fans.
TraceMe, available on the App Store for free, is bringing fans closer to their sporting heroes at the Pro Bowl and the events leading up to it, with immersive behind the scenes video, live group chats, fan giveaways and other exclusive content experiences.
Russell Wilson (Seattle Seahawks), Patrick Peterson (Arizona Cardinals), Alvin Kamara (New Orleans Saints) and Mike Daniels (Green Bay Packers) are among the star-studded list of players participating in the special Pro Bowl coverage on TraceMe. In addition, stars such as Drew Brees (New Orleans Saints) and Derek Carr (Oakland Raiders) will be guests on special Pro Bowl episodes of DangerTalk, Wilson's TraceMe podcast series, which is available in the app and also on iTunes, Google Play Music and Stitcher.
"We are super excited to have Pro Bowlers join together on TraceMe to share their real-time experiences, both on and off the field," Wilson, a Super Bowl champion and four-time Pro Bowler, said. "Our podcasts this week will showcase elite players from both the AFC and NFC as they sit side by side to discuss sports, family, and how to live an inspired life."
TraceMe's Pro Bowl coverage allows fans to go on a real-time, behind the scenes, immersive journey with their favorite athletes, experiencing the rivalry straight from the practice field, the locker room, and the sideline, as well as chatting directly to celebrities and fans in the TraceMe community.
Fans following all the action in Orlando are also in for a treat with an exclusive TraceMe giveaway, where they can enter to win an NFL football signed by some of the players participating in the coverage.
Download TraceMe: https://link.traceme.com/probowl
Press kit with frequently-updated video highlights and stills
About TraceMe Inc.
TraceMe (http://www.traceme.com) is a new mobile platform dedicated to bringing fans closer to what they love. Founded in Seattle, WA, last year by Seahawks quarterback Russell Wilson, the company has raised $9MM from prominent backers such as Madrona Venture Group and Bezos Expeditions. The mobile app is available for iPhones on the App Store and will be launching soon on Google Play for Android.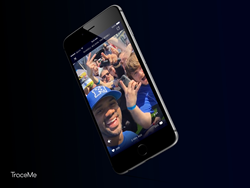 http://www.prweb.com/releases/2018/01/prweb15131289.htm