Theo nguồn tin trên trang mạng của hay prweb.com.
Interjet Introducing Daily Nonstop Service Between Orlando and Mexico City
Hãng Hàng Không Interjet Giới Thiệu các chuyến Bay Thẳng Hàng Ngày giữa Orlando và Mexico City
New service to start June 14, 2018 with special introductory fares from $190.00 round trip.
MEXICO CITY (PRWEB) MAY 30, 2018
Interjet Airlines announced today, daily, nonstop service between Orlando International Airport (MCO) and Mexico City's Aeropuerto Internacional Benito Juárez (MEX). These new flights will serve both the business and leisure traveler.
"Orlando is a growing and significant market for travel to Mexico City," said Julio Gamero, Interjet's Chief Commercial Officer. "We're delighted to be able to offer business and leisure travelers everywhere we fly, our unique brand of lower prices with free checked bags on select fares, more legroom between seats and great service that is embraced everywhere we fly," he added.
Interjet's new service between Orlando, FL and Mexico City will begin June 14th and operate using Airbus A320 aircraft seating 150 passengers. Round trip promotional fares from Orlando to Mexico City will start at $190.00 taxes included. This special fare with be available until August 5, 2018, and valid for trips from June 14, 2018, through September 30, 2018.
Promotional fares are not available to groups nor can they be used with other promotional fares.
For more information regarding Interjet's new Orlando to Mexico City service or to make a reservation, visit http://www.interjet.com or in the U.S. call (866) 285-9525
About Interjet Airlines
Interjet Airlines is an international airline based in Mexico City providing air service to 55 destinations in eight countries, including 35 cities in Mexico. Its network includes service to ten U.S. markets: Chicago, Dallas/Ft. Worth, Houston, Las Vegas, Los Angeles, Miami, New York, Orlando/Sanford, San Antonio and San Francisco. Other international routes include Montreal, Toronto, and Vancouver, Canada; Havana, Santa Clara and Varadero, Cuba; Bogota, Colombia; Guatemala City, Guatemala; Lima, Peru; and San Jose, Costa Rica. The airline operates a fleet of 81 aircraft including three Airbus A320neos, 47 Airbus A320s, three Airbus A321neos, six Airbus A321s and 22 Superjet 100s.
Media Contact
Julieta Peña Flores
Tel. +52 (55) 9178 5500 x5833
Email: Julieta.pena(at)interjet.com(dot)mx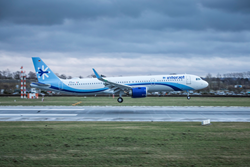 https://www.prweb.com/releases/2018/06/prweb15527609.htm