TripAdvisor xếp hạng khách sạn Holiday Inn Express Hotel & Suites Orlando East – Khu vực UCF số 1 trong toàn bộ khu vực Greater Orlando
Theo nguồn tin trên trang mạng Premier Resorts & Management hay Holiday Inn Express Hotel & Suites Orlando East – UCF Area của prweb.com
Holiday Inn Express Hotel & Suites Orlando East – UCF Area Has Been Declared as the No.1 Hotel in the Greater Orlando Area
Recently, TripAdvisor has declared Holiday Inn Express Hotel & Suites Orlando East – UCF Area as the best hotel from the whole Greater Orlando area. This newly constructed hotel is conveniently located at the entrance to the Central Florida Research Park
ORLANDO, FLA. (PRWEB) MARCH 28, 2019
Holiday Inn Express Hotel & Suites Orlando East – UCF Area is proud to announce that recently they obtained the No.1 hotel ranking in the Greater Orlando area by the world famous and largest travel website TripAdvisor. This achievement was made possible thanks to the +800 reviews that averaged an excellent 5.0-star rating. The visitors love staying here. From the moment they enter the hotel, they will be treated like royalty and every effort will be made to make their stay as comfortable as possible. The guests enjoy their very clean rooms.
Another thing they notice, and they are impressed with, is the very friendly and knowledgeable staff that is ready to assist their guests and exceed their expectations.
Holiday Inn Express & Suites Orlando East -UCF Area is a recently constructed hotel located at 2250 E Colonial Dr, Orlando, FL 32826-4709 near the entrance of Central Florida Research Park, known for being home to famous enterprises like PEDO STRI, Lockheed Martin, AON, Raytheon, SAIC, Northrop Grumman, General Dynamics & Rockwell. Keeping up with the trends and promoting a healthy lifestyle, this hotel is a smoke-free facility, where all of its 91 rooms are smoke-free. Also, it is located very close to UCF.
The prestigious place it occupies in the TripAdvisor ranking is a recognition of the sustained effort to provide customers with the highest standards of service. After obtaining this fabulous ranking, General Manager Bruce Grube had a few words to say:
"Our team established a goal to become number one on TripAdvisor from the day we opened, even though everyone thought it to be impossible and rightly so since our hotel is fairly small. Everyone knows that Orlando is one of the largest hotel markets in the world and some of the greatest hotels in the world reside here. Our competition ranges from Waldorf Astoria, Ritz Carlton and the Five Star Four Seasons Resort, just to name a few. We then developed a comprehensive plan to accomplish this lofty goal. We assembled a "Fabulous Team" which was one of our main focuses and the real key component to making this happen! We then went about training our staff on how to deliver 5 Star Service to each and every guest. We coupled this with high expectations of cleanliness and with a real thorough Preventative Maintenance Program. We then pushed for the top. It took us 1 and a half years to break into the top five. We remained either 2 or 3 for the next four years. But, then on Feb. 27th, 2019 we finally succeeded in becoming number ONE! Our team was so excited and it was so great to see all of our hard work had paid off. Our owners were thrilled and coupled with our wonderful corporate management team they threw our entire hotel staff a fantastic celebration event!"
AMENITIES
At Holiday Inn Express Hotel & Suites Orlando East – UCF Area, the newly appointed guest rooms and suites offer triple-sheeted bedding, a choice of soft or firm pillows, flat panel HDTV, microwave & refrigerator, work desk, in-room heating, A/C controls, private bathroom, bathtub, and free Wi-Fi. All guests receive a Free hot breakfast including their world-famous cinnamon rolls, fresh whole fruit, eggs & meat.
A perfect morning can start with a delicious breakfast served to their guests every morning of their stay at their Express Start Breakfast Bar. They also serve complimentary coffee and tea 24 hours a day. Enjoy their warm cookies in the afternoon along with their fruit infused water (also complimentary)! On Tues. evenings enjoy a guest appreciation function from 5:30 pm to 7:30 pm where free food and free drinks are given to their guests!
Those who need to exercise can do that at the fitness center that is available 24 hours per day. This center is equipped with treadmills, elliptical machines, stationary bicycles. Some equipment like yoga mats, ab rollers, resistance bands, and free weights can be checked out from the front desk.
Holiday Inn Express Hotel & Suites Orlando East – UCF Area also has an on-site business center and an outdoor swimming pool. This hotel accepts service animals only. High-speed Free Wi-Fi is available throughout the entire complex. The housekeeping is done daily and a laundromat is also available.
Holiday Inn Express Hotel & Suites Orlando East – UCF Area is owned by Premier Resorts & Management, a full-service hotel company.
About PRM Hotels
Premier Resorts & Management is a full-service hotel company that is based in Ormond Beach, Florida. With an ever-growing portfolio of managed hotels, they are always looking for ways to smartly grow their business. Their mission is to deliver a superior return of investments and increased assets value to their investors. This is done by exceeding guest expectations by offering exceptional services executed by talented and resourceful local teams of managers and associates.
About Holiday Inn Express & Suites Orlando East – UCF Area hotel
At Holiday Inn Express & Suites Orlando East – UCF Area, they are committed to delivering true hospitality to everyone. It is important to make the guests feel warmly welcomed and valued while they are provided with an affordable and enjoyable hotel experience.
The fastest growing university in the United States, the University of Central Florida is located just 3 miles away from this Orlando hotel. Don't forget about all of the wonderful theme parks that are only about 40 minutes away: Walt Disney World Resort and Universal Studios.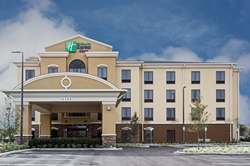 https://www.prweb.com/releases/holiday_inn_express_hotel_suites_orlando_east_ucf_area_has_been_declared_as_the_no_1_hotel_in_the_greater_orlando_area/prweb16205444.htm