Phi trường quốc tế Orlando sẽ tiếp tục hoạt động vào thứ Hai, ngày 2 tháng 9 năm 2019.
Theo nguồn tin Greater Orlando Aviation Authority của prnewswire.com
August 31, 2019
ORLANDO INTERNATIONAL AIRPORT LIFTING PLANNED CLOSURE FOR MONDAY
PRESS RELEASE
Based upon updated Hurricane Dorian forecasts, in conjunction with the National Weather Service and after conferring with our airport stakeholders and the Federal Aviation Administration, Air Traffic Control and TRACON, Airport Management decided to rescind the closure previously noticed for Orlando International Airport (MCO).
Orlando International Airport will continue to operate on Monday, September 2, 2019. Storm conditions will be closely monitored with a focus on insuring passenger and employee safety.
The latest updates show that Hurricane Dorian has changed its path and continues to be a powerful and unpredictable storm.
The airport's Emergency Operations Center (EOC) will continue 24-hour-a-day monitoring of Hurricane Dorian and airport leaders will work with industry partners to determine if any further adjustments to airport operations plans are necessary.
Passengers are advised to contact their airlines and rental car companies directly for individual flight and rental car information.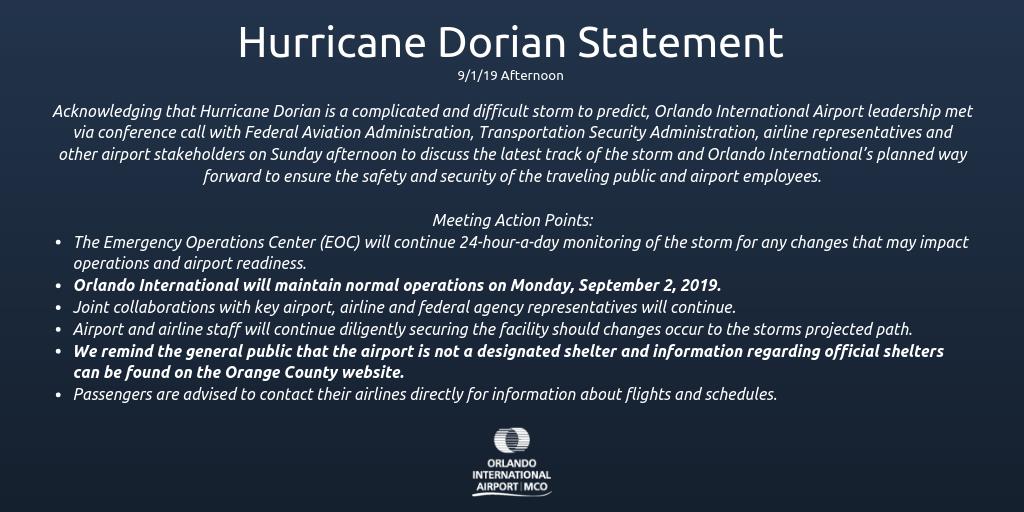 https://orlandoairports.net/press/2019/08/31/orlando-international-airport-lifting-planned-closure-for-monday/