Theo nguồn tin trên trang mạng của orlando.gov
Hurricane Dorian Update #6
Last updated on September 04, 2019
September 4, 2019 – ORLANDO, FL – The City of Orlando has begun the process of assessing the impacts of Hurricane Dorian and continues to monitor the storm as it makes its way up the coast. Non-essential City offices and services, including City Hall, will remain closed on Wednesday, September 4, 2019 with normal operations resuming tomorrow, Thursday, September 5, 2019.
"Our community heeded the hurricane warnings and took preparations seriously," said Orlando Mayor Buddy Dyer. "We are fortunate to have avoided a direct hit from this devastating storm. Our hearts are with the people of the Bahamas as they begin the long process of recovery."
The latest information regarding City of Orlando operations and resident information can be found below:
SOLID WASTE UPDATE:
The City will begin garbage and recycling collection, to include missed garbage collections, on Thursday, September 5, 2019 at 6 a.m. City Solid Waste crews will be following the below pickup schedule to ensure all missed routes are picked up before regular collection resumes next week.
Thursday, September 5, 2019 – Make-up for missed Monday and Wednesday garbage collection.
Friday, September 6, 2019 – Make-up collection for missed Tuesday garbage collection.
Saturday, September 7, 2019 – Make-up collection for missed Thursday recycling collection.
Sunday, September 8, 2019 – Make-up collection for missed Friday recycling collection.
Regular garbage, recycling and yard waste pickup is scheduled to resume normal operations on Monday, September 9, 2019.
PARKING GARAGES:
Individuals who parked their vehicles in City garages for protection from the storm have until 6 a.m., Thursday, September 5, 2019 to remove their vehicles and avoid any fees or fines.
RECREATION AND COMMUNITY CENTERS:
City of Orlando neighborhood centers, and pools will remain closed on Wednesday, September 4, 2019 and will reopen for normal operations on Thursday, September 5, 2019.
After school programs at all City neighborhood centers will be closed on Wednesday, September 4, 2019 and will resume normal operations on Thursday, September 5, 2019.
STAY INFORMED:
Residents can stay informed and get information on Hurricane Dorian from the City of Orlando through Social Media at:
City of Orlando's Facebook page: www.facebook.com/cityoforlando
Spanish – www.facebook.com/ciudaddeorlando
City of Orlando's Twitter account: @citybeautiful
Additional updates and information on the City's website at: www.orlando.gov
###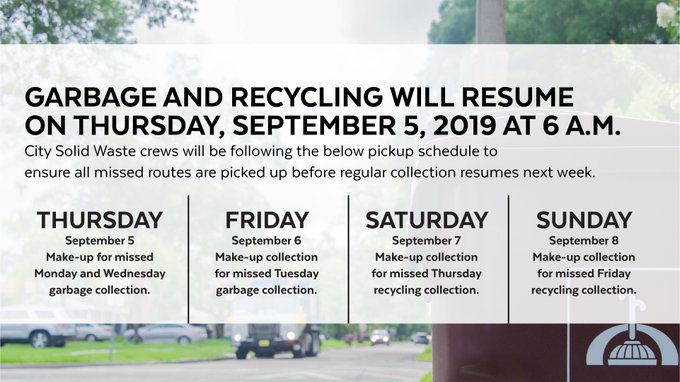 https://www.orlando.gov/Tracking-Hurricane-Dorian/Hurricane-Dorian-Update-6