Theo nguồn tin U ARe! Fashions trên trang mạng của prweb.com
Center Stage Posing Suits, known within the bodybuilding arena for its exquisite custom posing suits and bikinis, now has a team of 26 sponsored athletes for the 2014 competition season.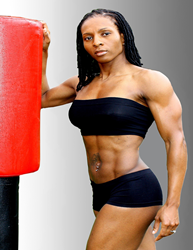 Orlando, FL (PRWEB) March 13, 2014
Twenty-six amateur and professional bodybuilder, physique, figure and bikini athletes will be representing Center Stage Posing Suits on stage this year. Each athlete was selected based on their passion, dedication to the sport of bodybuilding and physique. As a team, Center Stage Posing Suits will reach audiences nationwide and will appear on stage across the various bodybuilding organizations.
U ARe! Fashions developed its competition posing suit and bikini line, Center Stage Posing Suits, to bring exciting new creations to figure, physique, bikini and bodybuilding athletes. Each suit design brings a combination of elegance, beauty and originality to the table. Founder/Designer, Anissa Rogers, creates and designs each suit. She is passionate about delivering quality workmanship and believes hand-crafting (vs. mass producing) will ensure proper care and detailed attention. Each suit is a treasure and customers are satisfied knowing their investment is cherished.
"Working with Anissa Rogers on creating a posing suit has been such a delight and wonderful experience. She shows creativeness and expertise in the designs of her suit. She is also extremely flexible and a very good listener in meeting my needs for a suit. I would definitely recommend Anissa for all your posing suit needs!" Christine Keefer, IFPA/NGA Figure Professional (Center Stage Posing Suits' sponsored athlete)
"I love my suit! It fits perfectly and has a beautiful design. Anissa was well within my timeframe and was very helpful. She really knows what she's doing!" Melissa W., Amateur Figure competitor
Video
To date, word of mouth has been the most successful advertising for Center Stage Posing Suits. As an added incentive, a "Refer & Earn" Program was established as an opportunity for supporters to earn extra cash. Supporters will receive a personalized code to share with friends who are interested in a new suit. The personalized code entitles the purchaser to a 5% discount off any custom or ready-made suit and the supporter will earn a 10% referral bonus for the sale. The code can be shared without limitation and can be used by the supporter as well. All Trainers/Coaches/Athletes/Non Athletes are welcome to sign up. No contractual obligation and no gimmicks. To request a code and other program details, email centerstageposingsuits(at)outlook(dot)com with "Refer & Earn Program" in the subject line.
Center Stage Posing Suits has recently partnered with a local nutrition shop and is offering posing suits and bikinis at wholesale pricing for resale by the shop owner. This is a great avenue for increasing exposure. Similar business opportunities are welcomed.
Center Stage Posing Suits is based in Orlando, FL, servicing athletes nationwide.
About Anissa Rogers:

Anissa Rogers is devoted to fashion and fitness. The two go hand in hand for this Professional Figure Competitor, Certified Fitness Trainer, Clothing Designer and Competition Suit Designer.
Fitness has been an active part of Anissa's life for many years. She began competing in 2004 and is currently an IFPA Professional Figure Competitor. Anissa is an NFPT certified 1st Class Personal Fitness Trainer and an Advanced Sports Nutrition Specialist.
Anissa's passion for fashion designing cultivated in 2010 with the idea to design t-shirts. Her husband, Kenny, inspired her to think bigger and thus U ARe! Fashions was birthed into a full women's clothing collection. Developing Center Stage Posing Suits was the next natural step for Anissa. She equally loves competing and creating so the art of suit designing keeps her vigor for competing alive.
At age 42, Anissa shows no sign of slowing down. This active wife, mother and self-employed entrepreneur hopes to continue to use fashion and fitness platforms as modes of motivation. Her ongoing aspiration is to inspire people to discover their purpose and pursue their dreams. She has big ideas for the future of U ARe! Fashions including a children's clothing line and athletic apparel for 2015.
Contact:

Anissa Rogers

Email: Uarefashions(at)outlook(dot)com

Phone: (407) 580-0883

Website: http://www.uarefashions.com
http://www.prweb.com/releases/2014/03/prweb11662420.htm