Theo nguồn tin trên trang mạng của prweb.com
International Drive's Newest Shopping Attraction Features Florida's Largest Daily Indoor Artisan Marketplace and World-Class Anchors; Redevelopment of Former I-Drive Landmark to Create 675 New Jobs
Orlando, FL (PRWEB) August 21, 2014
Artegon Marketplace Orlando, a 1.1 million-square-foot shopping attraction and artisan marketplace, is scheduled to open on Nov. 20 in the heart of Orlando's tourism district on International Drive. Paragon Outlet Partners, LLC has redeveloped the former Festival Bay Mall into a new shopping concept for the region inspired by such famous marketplaces as Seattle's Pike Place, Boston's Faneuil Hall, New York's Chelsea Market and the London Flower Market.
"We are making a significant investment to reinvigorate one of the most valuable parcels on I-Drive, delivering an asset to the community that will create jobs, support local artisans, craftspeople and entrepreneurs, and contribute to the local tax base," said Steven Sless, executive vice president for Paragon Outlet Partners. Sless forecasts Artegon Marketplace will create more than 675 new jobs. At the peak of construction, more than 150 workers were employed.
Artegon Marketplace will house Florida's largest daily indoor artisan marketplace with more than 160 studio spaces featuring unique art, one-of-a-kind boutiques, handcrafted items and diverse food offerings from some of Central Florida's finest craftspeople.
"We have curated a collection of many of the area's top artisans, carefully selected for the quality and uniqueness of their works," said Sless. "Food and drink purveyors offer fresh, farm-direct fare of the highest quality."
Complementing the artisan marketplace, Artegon Marketplace is anchored by some of the biggest brands in dining and retail, including Bass Pro Shops Outdoor World, Ron Jon Surf Shop, Cinemark Theaters, Sheplers Western Stores, Toby Keith's I Love This Bar & Grill, and Berghoff's Octoberfest. The latter two venues are scheduled to open between fall 2014 and spring 2015.
Paragon Outlet Partners, LLC is considered one of the most influential and forward-thinking development firms in the nation's retail real estate industry. Locally, it is also credited with re-energizing the former Belz Factory Outlet into the highly-successful Prime Outlets Orlando that eventually sold to Simon Properties.
"Artegon Marketplace is poised to become a must-see attraction for residents, visitors and conventioneers alike, providing them with a new place to experience the sights, sounds and flavors unique to Central Florida," Sless continues. "Guests can discover authentic local culture and take home a hand-made treasure and lasting memento of their trip to Orlando."
Artegon Marketplace's industrial-chic environment, punctuated by heavy wooden support beams, exposed brick, and weathered steel accents, is designed to transport shoppers into an immersive experience unlike any other in Central Florida. More than 160 local purveyors of handcrafted items and specialty retailers will be selling and demonstrating a kaleidoscope of products and services, including eco-friendly handbags and accessories, soaps, jewelry, sculpture, mixed media artwork, custom clothing and much, much more. Hand-crafted foods – ranging from 70 different types of popcorn to hot sauces, nuts and local honey – offer a smorgasbord for eating and gift-giving.
The Artegon Marketplace experience is also highly interactive with caricaturists, henna and jawa tattoo painters, canvas airbrush artists, and other edgy performers. Visitors can watch glassblowing in a studio. Artegon's center court will feature an expansive rope climbing attraction. Streetmosphere performers, from jugglers to singers to stilt walkers, will stroll throughout. More than 20 in-line retailers, including Subway, will round out the guest experience.
For group outings, Artegon Marketplace is an interactive and entertaining addition to the region's inventory of options for compelling community events, off-site convention outings, corporate parties and bus tours.
The center provides ample, free surface parking with 5,800 spaces. Operating hours are 10 a.m. – 9 p.m. Monday-Saturday and 11 a.m.–7 p.m. on Sunday. Artisan studios will be open 11 a.m. – 8 p.m. Monday-Saturday and noon – 6 p.m. on Sunday. Artegon Marketplace Orlando is located at 5250 International Drive, Orlando, FL 32819.
To learn more about Artegon Marketplace Orlando, like them on Facebook and follow them on Twitter and Instagram #EatShopArtegon.
For leasing information, please contact Steve Sless at (321) 209-6362.
Editor's Note: Executive interviews, tours and high-res images are available by contacting Laura E. Richeson, APR at 407.616.8108 or Laura(at)RichesonCommunications(dot)com.
Media Contacts:

On Assignment with Bisbee and Company PR:

Laura E. Richeson, APR, Laura(at)RichesonCommunications(dot)com, 407.616.8108

Jennifer Bisbee, APR, Jennifer(at)BisbeeAndCo(dot)com, 407.857.6443
Artegon Orlando (formerly the old Festival Bay Mall) is in the process of leasing for their exciting new indoor bazaar marketplace concept. Attend a First Look Open House for more information. Artegon Orlando's expansive marketplace will feature unique and diverse food, one-of-a-kind merchandise, artwork, handcrafted items and entertainment surrounded by some of the biggest brands in dining and retail. Inspired by the great marketplaces in the U.S. and from around the world, such as Pike Place, Faneuil Hall, Chelsea Market, Reading Terminal and Greenwich Village, Artegon Orlando is a showcase destination where an exciting and eclectic atmosphere will create lasting memories and become one of the must-see stops for Orlando vacationers and convention attendees.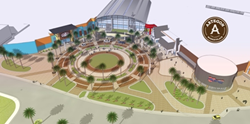 http://www.prweb.com/releases/artisan-shopping/local-attractions/prweb12111829.htm