Theo nguồn tin trên trang mạng của prweb.com.
Combat City Franchise Model Provides Ideal Investment In Combat-Themed Entertainment Industry
ORLANDO, FL (PRWEB) JULY 25, 2015
Orlando based Combat City has announced that they will begin to offer the popular combat-themed entertainment franchise and has plans to develop franchise locations throughout the southeastern part of the country.
It is estimated that airsoft is a multi-billion-dollar-a-year industry and has grown from a backyard war game into a major national and international event drawing tens of thousands of players. Combat City currently operates two locations in Orlando. The franchise offers both and indoor arena and outdoor field to prospective franchisees.
"I started Combat City thinking that I could put together a business model that would be fun to own, easy to manage and would not require me to be onsite everyday." Said Dave Kaplan, Founder of Combat City Franchising. "We provide a full range of programs for all ages including, birthday parties, tactical law enforcement training, corporate team building and open play–most of the activity is on weekends and an owner does not necessarily need to be there for all events."
Combat City has retained the services of The Franchise Sales Solution to assist with franchise marketing, franchise sales and early development of the model. "This is a really great model that is ideal for someone who is looking for an investment opportunity or for someone who may already operate trampoline or jump centers, bowling alleys or other recreational type businesses." Said John Armatas, President of The Franchise Sales Solution. "Dave has developed multiple revenue sources within the model, such as equipment repair, parties, military and tactical training and a retail shop. As he is found of saying, his customers go through lots and lots of airsoft bb's."
ABOUT COMBAT CITY

Combat City has been offering airsoft battles and large games to Central Florida since 2010. They currently operate two corporately owned locations that include and Oudoor Field at 3650 Express Street in Orlando and Indoor Arena located at 1075 Florida Central Parkway in Longwood, Florida. For additional information on the Combat City Franchise Opportunity visit http://www.combatcityfranchising.com.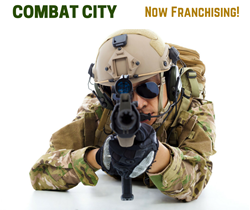 http://www.prweb.com/releases/combatcityfranchise/thefranchisesalessolution/prweb12866694.htm