Theo nguồn tin trên trang mạng của prweb.com.
Florida Dairy Farmers offers "spook-tacular" recipes for tasty Halloween treats
ORLANDO, FLA. (PRWEB) OCTOBER 13, 2015
Though trick-or-treating remains a Halloween staple, many also choose to hold the festivities in the friendly confines of their home. Whether it's making fun pre or post trick-or-treat snacks for the kids or entertaining friends and neighbors, try these Halloween recipes from Florida Dairy Farmers.
Recipe 1: Green Chile Queso Dip with Sriacha Web
Ingredients:
2 cups shredded quesadilla cheese or mozzarella
4 ounces low fat cream cheese
¼ cup low fat milk
½ teaspoon garlic powder
4 tablespoons canned diced green chilies
Sriacha, or salsa depending on preferred spiciness
Optional garnish: black olive "spiders"
Directions: In a saucepan over medium heat, melt the cream cheese and milk together. Stir in the shredded cheese, green chilies and spices. Salt, if needed. Pour mixture into wide mouthed bowl. Squeeze a circle of hot sauce along edge of bowl, and gradually work additional circles towards the center of the bowl. Drag a toothpick from center circle to outer circle to form a web shape. Garnish with black olive "spiders."
Recipe 2: Witch's Cheese Broomstick
Ingredients:
12 segments of string cheese, unwrapped and cut in half
12 green chives or onions
12 medium sized pretzel sticks
Directions: Carefully skewer pretzel into cheese portion and gently shred end to resemble broom. Gently tie chive around the top portion of the broom where cheese meets pretzel stick.
Recipe 3: Candy Corn Milkshakes
Ingredients:
4 cups vanilla ice cream or frozen yogurt, softened
1 cup milk (plain low fat or whole)
Yellow food color
Orange food color
Candy corn
Sprinkles
Whipped cream
Directions: Mix the softened ice cream with the milk, divide into two bowls. Add yellow color to one bowl and mix to incorporate. Add orange color to remaining bowl (place in freezer while assembling yellow layer). Divide the yellow ice cream into four glasses, it should reach 1/3 of the way. Place in freezer for 10 minutes. Remove glasses and spoon the orange ice cream on top of the yellow layer. Top with whipped cream and garnish with sprinkles and candy corn.
For more information about Florida Dairy Farmers or to find great recipes for Halloween and beyond, visit http://www.floridamilk.com.
# # #
About Florida Dairy Farmers
Florida Dairy Farmers is Florida's milk promotion group, working to raise awareness of the dairy farming industry and the nutrient-rich foods it provides. FDF represents more than 130 dairy farming families throughout the state. For more information, call 407-647-8899 or visit http://www.floridamilk.com.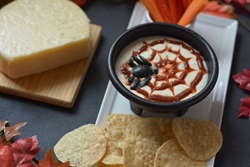 http://www.prweb.com/releases/2015/10/prweb13020193.htm