Theo nguồn tin trên trang mạng của prweb.com.
Downtown Style Meets Winter Park Class as Orlando's Popular Cutting-Edge Salon Unveils New Location
(PRWEB) NOVEMBER 23, 2015
FOR IMMEDIATE RELEASE
Winter Park is getting trendier right before the New Year as Downtown Orlando's premiere salon and beauty studio, Trend Studios Orlando, announces the official grand opening of their second location, Trend Studios Winter Park, on Saturday, December 12. Trend Studios Winter Park will join their stylish family of salons, including Trends Studios popular hub located at the Church Street Exchange in Downtown Orlando and sister salon Therapi Hair Studios on Orange Avenue, which focuses more on edgy styles. Trend Studios Winter Park is the first of several new Trend Studios locations opening throughout Central Florida in the coming year including Lake Mary, Lake Nona and Windermere. Following, Trend Studios plans to open Trend Studios Institute, a cosmetology school.
Located in the Trader Joe's shopping plaza, the 1,565 square-foot Winter Park salon will offer the same beauty experience and services as Trend Studios Downtown, including everything in hair from cut and styles to extensions and Brazilian blowouts, plus a great wine and champagne selection and valet parking. Trend Studios Winter Park will be run by sought-after Trend Studios Orlando stylists Clint Torres and Luis Vega, taking their talents to Winter Park as Co-Operating Partners along with Co-Owners Anthony Cortes and Matthew Bengtson. Torres and Vega have been with Trend Studios Orlando since opening in April of 2012, and Torres has designed the look, feel and branding of both salons.
"With the huge success of Trend Studios Orlando and the popularity of our stylists like Clint and Luis, we saw a need to make sure we could help them grow in their creativity and were given the opportunity to grow our operating partners from within," says Cortes and Bengtson. "We are thrilled to open our newest Trend Studios location in the beautiful Winter Park community and fill a unique niche that takes the polished and prime Winter Park and infuses it with Downtown chic and trendy," says Vega. Torres continues, "Trend Studios is more than a salon, we are a culture. We look forward to bringing our hip, top-notch brand to the area, cultivating relationships with other local businesses through events and partnerships and growing our loyal and dedicated clientele with our exceptional service."
Trend Studios Winter Park is located at 119 North Orlando Avenue, Suite 105, Winter park, FL 32789. Hours of operation are Sunday thru Wednesday 9am-6pm and Thursday thru Saturday 9am-8pm (subject to change). For more news and information, visit
http://www.trendstudioswinterpark.com or call 407-237-3213.
About Trend Studios
Trend Studios opened in April of 2012 to provide a new breed of salon in the Downtown scene offering an unparalleled repertoire of cutting-edge services in a fun and lively atmosphere. The focus of Trend Studios is to be the trend-setting salon of choice for Central Florida's young professionals and for the trendsetter in everyone. Trend Studios provides a "one stop shop" for all things cutting-edge. In addition, Trend Studios holds monthly classes on new styling and color techniques and works very closely with Be Creative House (Bumble and Bumble) to offer staff continued education and training programs. Trend Studios prides itself on a staff that is always well-educated on the current trends in hair and fashion and also the ones to come. There is no hair trend the stylists cannot provide to their clients.
###
MEDIA CONTACT: Ilene Lieber, Passion PR Consulting, 321-277-7812, ilene(at)passionprconsulting(dot)com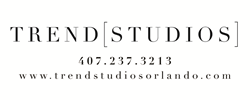 http://www.prweb.com/releases/2015/11/prweb13098806.htm