Theo nguồn tin trên trang mạng của prweb.com.
Leading hotel Management Company Naples Hotel Group announces the opening of new, custom designed Florida hotel.
ORLANDO, FL (PRWEB) APRIL 05, 2016
The Naples Hotel Group, a leading hotel Development and Management Company, announces the opening of the Hampton Inn & Suites Orlando/Downtown South – Medical Center. Naples Hotel Group was awarded the contract to oversee development and management with owners CJP Columbia Properties Hotel LLC.
The Florida hotel is located off of S Orange Avenue near the main entrance of the Orlando Health campus. This location is conveniently near downtown Orlando. The property has 126 rooms and suites with custom interior décor. Some featured amenities of the hotel include an outdoor pool, fitness area, and expanded meeting room space. Shuttles for transportation are also available to nearby hospitals and select locations downtown.
"We are excited to open this new hotel in the downtown Orlando market. We're confident about this Hampton Inn & Suites' ability to serve the downtown and hospital markets," says Mike Bou-Sliman, Managing Partner of Naples Hotel Group. "The custom interiors of the hotel set a contemporary and unique ambiance for our guests," he also commented.
For more information or media inquiries, please contact Brittany Bou-Sliman at brittany(at)napleshotelgroup(dot)com or 239-206-4273.
About Naples Hotel Group
Naples Hotel Group is a hotel development and management company founded in 1999. NHG has achieved superior results and has a proven ability to enhance the performance of hotels through the use of their experience, responsiveness and extensive resources. NHG, based in Naples and Orlando, prides itself on building long-term relationships with quality people and organizations. To learn more visit, http://www.napleshotelgroup.com.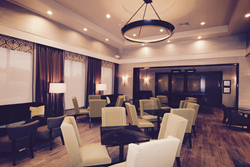 http://www.prweb.com/releases/2016/04/prweb13304609.htm