Theo nguồn tin trên trang mạng của prweb.com.
Central Florida's Acclaimed String Group Closes Florida Music Festival with Their Unique Arrangements of Classic and Modern Rock Tunes
ORLANDO, FL (PRWEB) APRIL 12, 2016
What: "Classic Musicians Who Rock!" Violectric are set to rock Wall Street Plaza in Downtown Orlando closing out the 16th Annual Florida Music Festival. The internationally acclaimed electric rock string quintet plus keys and drums will showcase a collection of their unique custom arrangements of classic and modern rock tunes sure to have audiences up on their feet and singing along. Violectric is led by Michelle Jones (Violin) joined by fellow talented musicians Yamilet Trujillo (Cello), Elizabeth Chaconas (Viola), Lexy Parsons (Violin), Paul Cuevas (Bass), Carol Hensal (Keyboard) and guest drummer Jeffrey Bonenfant.
When: Saturday, April 23, 2016. Show starts at 11pm.
Where: Wall Street Plaza II Stage, 266 Wall Street, Orlando, Florida 32801.
How: Show is free and open to the public. More information: http://www.floridamusicfestival.com.
Who: Formed in 2008, the accomplished members of Violectric have been performing for over 20 years across the globe. Led by esteemed musician "Vinylinist" Michelle Jones, Violectric is a unique fusion of the passion and beauty of classical string instruments with the excitement of cutting-edge modern technology and effects. Violectric's custom arrangements of classic and modern rock tunes like "Billie Jean," "Go Your Own Way," "Moves Like Jagger" and "Chandelier" cannot be heard anywhere else. Violectric is committed to music education offering programs throughout the United States and Asia including master classes and performances combining Violectric with student string groups, which Violectric produces in partnership with the Dr. Phillips Center for the Performing Arts and School for the Arts as their artists in residence.
Why: The Florida Music Festival boasts over 125 individual showcases each year and emphasizes promoting the community of music. Each night, FMF invites individuals, artists and all music enthusiasts to come together to celebrate an artist or band that defines their genre. Over a dozen stages take over Downtown Orlando from Thursday, April 21 to Sunday, April 23 rocking all genres from Pop, Hip Hop and Alternative Rock to Country and Blue Grass. All participating showcase venues are free admission.
For more news and information on Violectric and sister group Fretless Rock, visit http://violectric.net, http://stringsetc.net and http://vinylinist.com. For more information on Violectric Educational Programs, visit http://education.violectric.net/.
Media Contact: Ilene Lieber, Passion PR Consulting, 321-277-7812, ilene(at)passionprconsulting(dot)com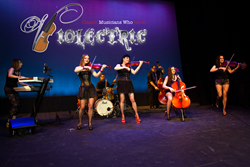 http://www.prweb.com/releases/2016/04/prweb13334800.htm