Theo nguồn tin trên trang mạng của prweb.com
More than 500,000 visitors and locals experience the newest nightlife destination in Orlando's tourist corridor, Mango's South Beach celebrates its 25th Anniversary!
ORLANDO, FL (PRWEB) JULY 14, 2016
Mango's Tropical Cafe has proven to be a hit!
Just six months after bringing the sophisticated excitement of South Beach and the showmanship of a Las Vegas production to International Drive, the newest nightlife destination has surpassed its expectations and opening goals.
Plus, the first Orlando location of the Le Cirque brand was announced as the first new high-end tenant for the Mango's Entertainment Complex. The restaurant will be International Drive's highest, located on the 10th floor of the parking development.
From its' opening date in December 2015, more than 500,000 people have moved to the Latin rhythms, indulged in smooth Miami mojitos, dined on Cuban-inspired delicacies and showcased the demand for an entertaining nighttime experience.
"We knew there was nothing like this in Orlando and the results from our first six months show how this entertainment concept works," says Joshua Wallack, COO, Mango's Tropical Cafe. "Every night, our complex is filled with guests who stay an average of two to three hours enjoying the show. There really is nothing else like this in Orlando.
"From couples looking for a romantic evening to conventioneers looking to unwind to families wanting something different, Mango's Tropical Cafe has proven to be a success," he adds.
"There's no better place, beautiful women, great food and Vole shots all night. Bottom line, Mango's is a great time, In South Beach or Orlando,— dale," said Armando Perez, better known as International Superstar Pitbull.
Over the past six months, Mango's Tropical Cafe has:
Admitted more than 500,000 guests
Sold 37,000 bottles of Corona
Sold 38,000 mojitos
Hosted 150 days of sold-out shows
Served 3,000 al ajillo dishes
Sold more than 5,000 churrasco steaks
Danced 360 congo lines
Played Billie Jean 360 times
Hired 450 employees
Entertained dozens of celebrities, including superstars Flo Rida, Pitbull, NBA Champion Kyle Irving, N'Syncs Joey Fatone, Latin Superstar Wising and pop mega-star Rachel Platten
Celebrated thousands of birthday parties
Hosted hundreds of bachelorette parties
Taught 600 people how to salsa
Over the next six months, Mango's Tropical Cafe will be building on its success. Construction is about to begin on the neighboring parking and commercial development, adding upscale restaurants and retail to the Mango's Entertainment Complex and providing a service to the entire I-Drive/Sand Lake Road corner.
In addition, new production numbers are being added to the dinner show, providing a different experience for guests each time they come to Mango's Tropical Cafe.
Mango's South Beach, which opened on iconic Ocean Drive in 1991, is celebrating its 25th Anniversary. "The essence of South Beach, fun in the sun and hot Latin nights, creates enough energy to power the City of Miami Beach," Wallack continued, "South Beach is a classic and Orlando nightlife is our new frontier. The addition of our 800 space garage and incredible tenants like Le Cirque will elevate International Drive to dazzling heights, with convenient parking and mobility for all."
About Mango's Tropical Café:
Opened 25 years ago in South Beach, Mango's Tropical Café was the start of the resurgence of the South Beach district in Miami into an entertainment and nightlife destination for the world. Entertaining millions with high energy productions, great food and drink and tropical music, Mango's Tropical Café provides an experience not found in any other attraction. In December 2015, Mango's Tropical Café expanded into Orlando's International Drive Entertainment District, with a $40 million new facility which drew more than 500,000 people to the complex in its first six months. For more information, please visit Mangos.com.
Contact: Alan Byrd, Alan Byrd & Associates, 407-415-8470, alan(at)byrdconnections(dot)com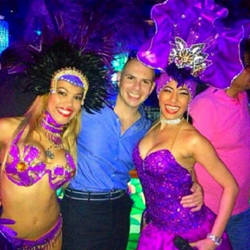 http://www.prweb.com/releases/2016/07/prweb13550438.htm