Theo nguồn tin trên trang mạng của prweb.com.
Free Desserts on Tax Day Weekend Will Help Make America Taste Great Again!
ORLANDO, FLA. (PRWEB) APRIL 11, 2017
Romacorp Inc., the parent company of Tony Roma's, is "writing off" a signature dessert for guests to sweeten their weekend in anticipation of the always dreaded Tax Day on April 17th.
It's deliciously easy, does not require any forms or paperwork to qualify, provides a great rate of return, and is a special deduction for any guest who orders an entrée from April 15th – April 17th at a participating Tony Roma's restaurant. Qualifying guests receive a coupon for a free Tony Roma's signature dessert, their sweet way to enjoy America's new "Just Desserts" deduction.
"The 'Just Desserts' deduction program is one that has fans on both sides of the aisle and is our way of showing guests that we care, because we know that filing your taxes can be a stressful time for everyone," said Jim Rogers, Chief Marketing Officer for Romacorp, Inc. "Tax Day has been pushed back this year, so it seems right for us to give fans the whole weekend to satisfy their sweet tooth. It's one more sweet deduction that Americans can look forward to this year!"
Dine-in guests who visit participating Tony Roma's April 15th – 17th will receive a coupon for a free Brownie Royale Dessert or a free Crispy Brownie Bite Sundae (dessert varies by location) valid for their next visit. Pair either one of these fan favorites with Tony Roma's world-famous Baby Back Ribs and signature Romarita®, and guests will be in 1040 heaven. It's a return you won't want to miss.
About Romacorp, Inc.
Romacorp, Inc., is the parent company of Tony Roma's restaurants, the world's largest casual dining concept specializing in ribs. Headquartered in Orlando, Florida, Romacorp, Inc. has more than 150 restaurant locations in more than 30 countries and is one of the most globally recognizable names in the industry. The first Tony Roma's restaurant opened 45 years ago in North Miami, Florida. Tony Roma's is also proud to partner with the Make-A-Wish Foundation (http://www.cnfl.wish.org), one of the world's leading children's charities, in an effort to help grant the wishes of children with life-threatening illnesses across Central and Northern Florida. For more information about Romacorp, Inc. and Tony Roma's, visit http://www.tonyromas.com.
Please visit http://www.tonyromasfranchise.com or call (866) 981-0586 for information about Tony Roma's franchising opportunities.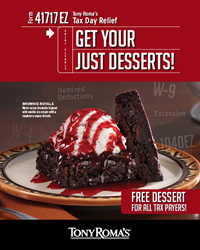 Note: We are not responsible for typo error, price change, substitute item, or available of item from online ads.
Lưu ý: Chúng tôi không chịu trách nhiệm về lỗi ấn, thay đổi giá, hàng thay thế, hoặc có sẵn mặt hàng quảng cáo.
http://www.prweb.com/releases/2017/04/prweb14232872.htm