Theo nguồn tin trên trang mạng của prweb.com
Off Lease Only Orlando to open this Saturday! Finally Central Florida car shoppers won't have to drive to South Florida to take advantage of the very lowest prices on quality used cars for sale.
(PRWEB) November 14, 2014
ORLANDO – Used car giant Off Lease Only Orlando hasn't opened for business yet and customers are already positioning themselves to buy the first cars.
Nearly 50 eager customers had submitted online finance applications as of Thursday in anticipation of the dealership's Saturday opening. The high-volume, discount dealership at 7948 Narcoossee Road opens for business at 9 a.m. Saturday, November 15th.
It's a dynamic that even impressed Off Lease Only owner Mark Fischer.
"To have that many customers ready to put money down on cars before stepping foot on the property is amazing. It's a tribute to the company's reputation, which I am so proud of," said Fischer, whose family-owned business now has close to 100,000 happy customers. "People feel comfortable shopping with us. And they get fantastic deals that are thousands below retail."
The Central Florida store is expected to create more than 100 jobs and pump millions of dollars in tax revenue into the local economy.
The no-frills business is known for its huge selection of nearly-new, low-mileage cars priced thousands below retail. Off Lease Only practices a policy of transparency, never charges dealer fees, doesn't haggle over price or use pressure to sell cars. The business model attracts customers from all over the United States and out of the country, many who ship their vehicles home and still incur huge savings.
Hundreds of used cars are lined up at Off Lease Only Orlando in preparation for Saturday's Nov. 15th opening.
Off Lease Only's newest dealership is situated on a sprawling 40-acre stretch just minutes from Orlando International Airport and close to the Disney and Universal Studios attractions. The location is convenient for Central Florida residents as well as out-of-state buyers who can fly in to pick up their cars.
Fischer expanded Off Lease Only north into Orlando to better serve his growing Central Florida clientele. Having a huge, new Off Lease Only dealership in the area will better serve existing customers and attract thousands of new customers who didn't shop at Off Lease Only because they were deterred by the drive south, he said.
With the addition of Off Lease Only Orlando, used car shoppers now have 3,000+ like-new cars to choose from in four locations: Orlando, Palm Beach, Lake Worth and Miami. Off Lease Only's entire inventory is available online, with photos, detailed descriptions and complimentary Carfax reports for every make and model.
Nearly 700 like-new vehicles — all available for viewing online — await car shoppers at Off Lease Only Orlando. The inventory includes a huge selection of all makes and models, available for thousands below retail. Included are Mercedes, Lexus, Audi, BMW, Chevrolet, Ford, Mazda, Honda, Dodge and Lincoln, to name a few.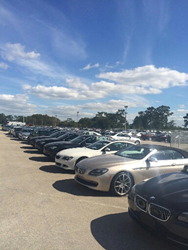 http://www.prweb.com/releases/2014/11/prweb12326982.htm