Theo nguồn tin trên trang mạng của prweb.com.
Special Filet Mignon entrée and $4 Filet Medallions Highlight Celebration
ORLANDO, FLA. (PRWEB) AUGUST 06, 2015
Tony Roma's is celebrating National Filet Mignon Day with two exciting specials, allowing guests to spoil themselves with tender grilled steak. From August 9 – 15, Tony Roma's will offer a special 8 oz. Filet Mignon entrée topped with a Cabernet Demi-Glaze and served with Tony Roma's world-famous fried onion rings and loaded mashed potatoes. Guests can also add one of Tony Roma's signature Filet Medallion to any entrée for only $4.
"While National Filet Mignon Day is typically celebrated on August 13, we're giving our guests six special days of indulgence with the juiciest, most tender grilled steaks in town," said Jim Rogers, Chief Marketing Officer for Romacorp, Inc., the parent company of Tony Roma's. "Adding one of our filet medallions to our world-famous Original Baby Back Ribs or one of our delicious chicken or seafood entrées for only $4 is a great way to enjoy the best of Tony Roma's."
Tony Roma's recommends pairing the Filet Mignon entrée with a glass of Red Rock Merlot, a fruity red wine from Red Rock Winery in California. Aromas of caramelized sugar and vanilla are nicely balanced by dark fruit flavors, creating a smooth and velvety finish that complements the steak.
"The wine, combined with our melt-in-your mouth Filet Mignon, creates a complete dining experience for our guests from top to bottom," said Chef Bob Gallagher, Senior Vice President of Purchasing and Culinary for Romacorp, Inc. "The Filet Mignon has been one of America's favorite meals since the late 1800s and that's a great reason for Tony Roma's to pay homage to this prime piece of beef."
About Romacorp, Inc.
Romacorp, Inc., is the parent company of Tony Roma's restaurants, the world's largest casual dining concept specializing in ribs. Headquartered in Orlando, Florida, Romacorp, Inc. has more than 150 restaurant locations in more than 30 countries and is one of the most globally recognizable names in the industry. The first Tony Roma's restaurant opened more than 40 years ago in North Miami, Florida.
Romacorp, Inc. also operates their new TR Fire Grill concept, a chef-inspired American bistro in Orlando, Florida with a new location planned for September 2015 in Winter Park, Florida. For more information about Romacorp, Inc. and Tony Roma's, visit http://www.tonyromas.com/. For information about our new TR Fire Grill concept, visit http://www.trfiregrill.com/.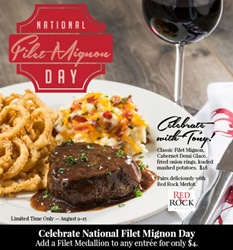 http://www.prweb.com/releases/2015/08/prweb12885231.htm