Theo nguồn tin trên trang mạng của prweb.com.
Sean Astin (Lord of the Rings and Goonies) Tweeted Emilyann Girdner's The Labyrinth Wall Just in Time for Luminous Word Press' Launch of the Sequel, The Haunted Realm, in November 2015
ORLANDO, FL. (PRWEB) OCTOBER 09, 2015
In addition to anticipation for The Haunted Realm book release which is officially scheduled for November 10th, Obsidian Series fans went wild on social media this weekend when Sean Astin (Lord of the Rings, Goonies, Rudy, and 50 First Dates) tweeted thanking Orlando, Florida Author, Emilyann Girdner, for autographing his copy of The Labyrinth Wall (young adult fantasy novel). The Labyrinth Wall is an Amazon Best-Seller, Dante Rossetti 2014 Award Finalist (an international competition) as well as a 5 Star Reader's Favorite rated book.
The Labyrinth Wall by Emilyann Girdner is a young adult book set in a magical epic fantasy world like The Hobbit but with a dark dystopian feel and it is written to be a quick read reminiscent of The Hunger Games. Emilyann has said before that she wanted to write an imaginative fantasy series that is a fast read for modern busy lifestyles. She imagined a story about a teenage girl (Araina) that is part of an entire race of people created to serve their makers within the labyrinth world. Subject to the repression of a hostile civilization within the dark labyrinth, all Araina knows is servitude until she witnesses a man unlike any she has ever seen with supernatural powers emerge magically through a wall into her world. Having realized for the first time that there must be more than the labyrinth, she is left to solve the mysteries of who the stranger is, why he has special abilities and what is on the other side of the labyrinth wall through which he came.
In The Haunted Realm, the riveting continuation to the story, Araina again faces a series of seemingly impossible magical obstacles as she and her friends search for answers about their Creators and their magical labyrinth world. At the Barnes & Noble The Haunted Realm book launch event, fans will be able to meet the Author, grab a signed book, make memories in an Obsidian Series photo booth and more. Fans of the series can sign up at the links included at the end of this article to reserve their book for the book launch as well as sign up for the Author's newsletter for online pre-order updates.
The Haunted Realm Book Launch Event:
Barnes & Noble
Altamonte Mall
November 21st 2015, 4:00pm
451 E Altamonte Dr.
Altamonte Springs, FL 32701
(407) 261-0252
Click Here to Reserve Books for the Event
Click Here to Sign Up for the Author's Newsletter
http://www.obsidianseries.com
http://www.emilyanngirdner.com
*Agents, publishers, producers and members of the press are encouraged to contact PR(at)thelabyrinthwall(dot)com for Author and book series inquiries
*Luminous Words Press (LWP) and the Author do not claim any official endorsements by any named people or businesses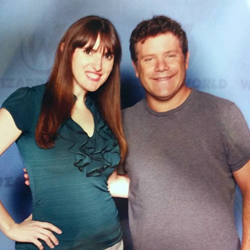 http://www.prweb.com/releases/2015/10/prweb13013804.htm