Theo nguồn tin trên trang mạng của prweb.com.
$500 Million Project will Revitalize Northern Side of Orlando's International Drive
ORLANDO, FLORIDA (PRWEB) NOVEMBER 18, 2015
The Skyscraper at SKYPLEX™, the $500 million brainchild of Wallack Holdings LLC, owners of the new Mango's Tropical Café Orlando set to open in just a few weeks, will now include a 524-foot vertical lift coming 24 feet under the ground and up to its ultimate height of 501 feet, developers David and Joshua Wallack announced today. This will be the fourth world record planned for the Skyscraper "polercoaster" including the world's tallest roller coaster, world's tallest inversion, and the world's steepest drop. The Skyscraper "polercoaster" is the anchor attraction at SKYPLEX™.
"The support from Central Florida and around the world is very humbling," said Joshua Wallack, Managing Principal of Skyplex and COO of Mango's. "SKYPLEX™ will be the tallest roller coaster on Earth, very appropriate for the tourism capital of the world — Orlando, Florida — and belongs in the International Drive Entertainment District."
The Wallacks also announced that SKYPLEX™'s surf park SkySurf will contain the world's largest man-made surfing wave pool, bringing six overall world records to the entertainment complex including the previously announced SkyFall, the world's tallest drop ride, and four for The Skyscraper. SKYPLEX™ will comprise approximately 1.5 million square feet located on 14 prime acres in the Orlando attraction's corridor. It will be the area's largest indoor theme park and also will include SkyFly free fall zip line, simulators and a host of rides and games, as well as additional opportunities for attractions, interactive venues, upscale restaurants, bars and retail. Skyplex will have a 2400 space parking garage and valet option.
At present, a 625 car parking garage/entertainment complex with rooftop restaurant and retail promenade is underway next to Mango's, to include a valet parking option.
For recent media stories about SKYPLEX™, visit:
http://www.orlandosentinel.com/news/taking-names-scott-maxwell/os-orlando-fights-skyplex-coaster-for-height-but-then-approves-skyhigh-project-nearby-20151022-post.html
http://www.examiner.com/article/orange-county-would-be-stupid-to-vote-down-skyplex-roller-coaster
http://www.orlandosentinel.com/business/tourism/os-skyplex-community-meeting-20151106-story.html
http://www.pixelsattheparks.com/2015/11/13/you-can-help-save-the-building-of-the-worlds-tallest-roller-coaster/
Be sure to visit http://mangos.com/skyplex/ for more information on SKYPLEX™ and the opening of the new Mango's Tropical Café Orlando coming soon to I-Drive.
About SKYPLEX™
The $500 million SKYPLEX comprises approximately 1,500,000 square feet located on 14 prime acres in the Orlando attraction's corridor. SKYPLEX will feature the area's largest indoor theme park complete with upscale arcading, simulators, bars, and a host of rides and games, as well as additional opportunities for attractions, interactive venues, restaurants and retail. SKYPLEX also will include a 350-room hotel and 2400-car parking garage with a valet parking option. The Skyscraper observation deck will offer views 535 feet from the ground and will be accessible by the region's tallest glass elevators. For more information, visit http://mangos.com/skyplex/.
# # #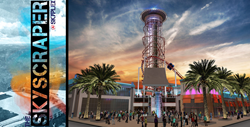 http://www.prweb.com/releases/2015/11/prweb13085932.htm