Theo nguồn tin trên trang mạng của prweb.com.
The Boy Band, Sons of Living Fuel Founders KC and Monica Craichy, To Perform Christmas Single "Merry Christmas To You"
ORLANDO, FLORIDA (PRWEB) DECEMBER 17, 2015
With Christmas a week away, Pop/R&B trio the KAJ Brothers announced they will be performing their first Christmas single release "Merry Christmas To You" on upcoming television appearances including live television appearances on Fox13 "Good Day Tampa Bay" on Friday, December 18 in the 8am hour; Fox 35 "Good Day Orlando" on Monday, December 21 in the 9am hour; plus they will appear in a special Christmas Day edition of the nationally syndicated DAYTIME television show (produced by WFLA) which will be broadcast locally in the Tampa-St. Petersburg market at 4pm on December 25, 2015.
The KAJ Brothers who are known for their mission to 'make chivalry cool again' co-wrote
the new romantic single "Merry Christmas To You" with producer Gerry Williams who frequently collaborates with the KAJ Brothers. Gerry Williams is Orlando's renowned producer/vocal coach who helped shape the classic boy band sound of N'Sync and The Back Street Boys.
KAJ Brothers on TV
Dec 18 8am Fox 13 "Good Day Tampa Bay" / Tampa-St. Pete
Dec 21 9am Fox 35 "Good Day Orlando" / Orlando
Dec 25 4pm DAYTIME TV Show / Nationally syndicated
"Merry Christmas To You" is the fourth single from the popular boy band following "Star
Spangled Banner" (4th of July); plus "Lady" (Valentine's Day) and "Hello" released in 2014, which were both produced by Grammy winning producer Bryan Lenox (Elton John, Garth Brooks, Amy Grant, Wynonna Judd, Sara Bareillis, Bruce Springsteen, Michael Bolton, Sir Cliff Richard, Michael W. Smith).
The KAJ Brothers are a unique trio of pop, rock, and R&B voices known for their sophisticated harmonies as well as their reinvention of old time romance, infused with orchestral sounds. The multi-talented Orlando based trio consists of 21-year old Kyle Craichy, vocals, piano, guitar, and dance; 19-year old sibling Austin Craichy, vocals, piano, guitar, drums, and dance; and 29-year old Johnny Atys, vocalist and national dance champion, who rounds out the group. Kyle and Austin were born in Tampa and raised in Orlando, while Johnny is originally from Paris, France.
The new KAJ Brothers single, "Merry Christmas To You" is now available for purchase on iTunes at https://itunes.apple.com/us/album/merry-christmas-to-you-single/id1057329230.
Weblinks: http://www.kajbrothers.com / http://www.instagram.com/kajbrothers / https://www.facebook.com/kajbrothers /
https://itunes.apple.com/us/album/merry-christmas-to-you-single/id1057329230
To arrange press interviews with the KAJ Brothers, contact Publicist Liz Motley at
(615) 574-3398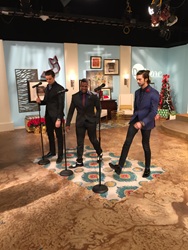 http://www.prweb.com/releases/2015/12/prweb13137666.htm