Theo nguồn tin trên trang mạng của prweb.com.
ZORA! TM Festival is a multi-day, multi-disciplinary event that commemorates the life of 20th Century Renaissance woman Zora Neale Hurston; her hometown, Eatonville and the cultural contributions people of African ancestry have made to the United States and the world. Festival highlight include inspired Zora Dinner, Zora Neale Hurston Society Keynote Address and Main Stage performances by Grammy Award winning Isley Brothers and R&B sensation KEM.
ORLANDO/EATONVILLE, FL (PRWEB) JANUARY 14, 2016
The twenty seventh annual Zora Neale Hurston Festival of the Arts and Humanities (ZORA! ™ Festival) is set to be a celebration of the 125th birthday of festival namesake writer, anthropologist and folklorist Zora Neale Hurston, January 23-31, 2016 in historic Eatonville, Maitland and Orange County Florida. "Hurston's body of work and unique style transcends time as she remains highly regarded as one of the shining stars of the Harlem Renaissance who continues to fascinate festival loyalists worldwide. As the event producers, we the Association to Preserve the Eatonville Community (P.E.C.) are proud that ZORA! TM Festival has become one of the largest and oldest cultural arts events in Central Florida. We are also grateful support for the continued of our sponsors such as our Presenting Sponsor Orange County Government through the Arts & Cultural Affairs Programs as well as our generous, superb volunteers," said N.Y. Nathiri, executive director, P.E.C.
ZORA! ™ Festival Highlights
Saturday January 23
Among ZORA! TM Festival highlighted programming is Dinner "Inspired by Zora", based on the book Zora Neale Hurston on Florida Food by Fred Opie, Ph.D. which officially kicks-off the festival at Holy Trinity Reception & Conference Center in Maitland, Florida. Dr. Opie is Professor of History and Foodways at Babson College in Massachusetts and is one of the nation's foremost authorities on Food Traditions; Food Systems; Elections; Movements; and Migrations. Attendees will receive an original buffet meal, copy of Zora Neale Hurston on Florida Food, and a Zora Neale Hurston poster.
Tuesday January 26
Atlanta Based artist Lynn Marshall-Linnemeier will unveil The Journey Projects: Eatonville during the opening reception and gallery talk exhibition curated by Jerushia, Graham at the Zora Neale Hurston National Museum of Fine Arts (The Hurston). The Journey Project: Eatonville is a celebration of residents and ancestors of Eatonville, including Zora Neale Hurston and Deacon Jones. The project is a combination of photographic images from Eatonville residents, and cyanotypes created by local youth on fabric that are woven together to create the final artwork. It is a community collaboration to commemorate and honor the townspeople and its most famous resident, Zora Neale Hurston.
Wednesday January 27
Long time festival sponsor and partner, University of Central Florida (UCF) will present The Encounter: Baalu Cirma and Zora Neale Hurston featuring artists Eric Gotttesman & Lynn Marshall-Linnemeier. This evening of progressive programming is presented by UCF Africana Studies Program Director, Professor Anthony Major, and by the UCF School of Visual Arts and Design, Ms. Yulia Tikhonova, gallery director.
Thursday, January 28
Popular Zora's Cosmos Mobile Tour: Eatonville and Beyond encompasses historic sites in Eatonville and Maitland and guests are treated to a regionally inspired fish fry lunch. In addition new ZORA! TM Festival partner. Alternate ROOTS , a southern based arts service organization, will host the ZORA! TM Festival Welcome Reception at the Winter Park Civic Center
Friday January 29
Educational programming which begins at Rollin College Bush Auditorium remains one of the most comprehensive components of ZORA! TM Festival. In Conversation: The Zora Neale Hurston I Remember moderated by Dr. Ben Brotemarkle, Executive Director, Florida Historical Society will feature Dr. Clifford Hurston, Jr., (Zora Neale Hurston's Nephew); Mrs. Vivian Hurston Bowden, (Zora Neale Hurston's Niece); and Mrs. Ella Johnson Dinkins, (Daughter of Addie G. Johnson, Eatonville friend of Zora Neale Hurston).
2016 ZORA! TM Festival Academic Conference themed Reflection on the Global Legacy of Zora Neale Hurston on the Occasion of Her 125th Birthday will be held in Eatonville in the Sanctuary of the St. Lawrence African Methodist Episcopal Church. Dr. Ruthe Sheffey, Professor Emerita at Morgan State University and founder of the first Zora Neale Hurston Society, on an American college/university campus will keynote the Opening Plenary tilted Scholars' Reflection – A Panel Representing Three Generations.
Highly anticipated theatrical debut of Spunk and the Harlem Literati, an adaptation by Be Boyd, based on the play Spunk by Zora Neale Hurston will take place at University of Central Florida Theatre on the main campus. This dramatization of Zora Neale Hurston's award-winning short story intertwines with song and storytelling.
Friday January 29
The Outdoor Festival of the Arts, sponsored by White Glove Entertainment, takes place and features interactive educational, arts, humanities and entertainment programming for youth to adults. Highlights include Zora Neale Hurston: Storyteller, a play produced and directed by Jami Thomas, creative workshops for high school students and a ZORA! STEM Conference for middle school students.
Saturday January 30
ZORA! ™ Festival Exclusive
On Saturday morning, the HATitude Party & Brunch will take place.
R&B crooner, KEM will headline the main stage concert, along with iconic, highly awarded Rock & Roll Hall of Famers, The Isley Brothers featuring Ronald and Ernie Isley.
Sunday January 31
A traditional worship service will take place at St. Lawrence African Methodist Episcopal Church, followed by continued outdoor activities.
ZORA! TM Festival 2016 was made possible through the support of many partners including Orange County Government Arts & Cultural Affairs Program, White Glove Entertainment, Florida Blue, the UCF College of Arts & Humanities and the Zora Neale Hurston Institute for Documentary Studies, and Visit Orlando.
For the full schedule of events, visit: http://zorafestival.org/full-schedule/full-schedule-3/
For additional information on ZORA! TM Festival 2016 events visit http://www.zorafestival.org or call 407-647-3307.
About the Association to Preservation the Eatonville Community, (P.EC.)
The Association to Preservation the Eatonville Community, is the nonprofit historic preservation group that organizes ZORA! Festival and whose mission is to enhance the resources of Eatonville, to educate the public about the town's historic and cultural significance, and to use the community's heritage and cultural vibrancy for its economic development.
Media Credentials
Approved media will have access to interview areas, and red carpet arrivals, for which press has RSVP'd in advance and received written confirmation from Tina Spencer. This includes media opportunities for the speakers and artist who are in town, as well as other ZORA! TM Festival events. All media must email tospencer(at)new-ideas-images(dot)com to request access to cover these opportunities. We will do our best to honor all requests. For more information regarding the Zora! Festival visit http://www.zorafestival.org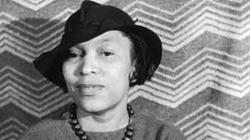 http://www.prweb.com/releases/2016/01/prweb13164924.htm