Celebrate Tequila, Limes and Good Times with Six New Caribbean-Style Margaritas
Theo tin prweb.com
PR Newswire, ORLANDO, F.L. – February 17, 2016
Bahama Breeze Island Grille is kicking off Viva la 'Rita 2016 on National Margarita Day, February 22, introducing six new handcrafted margaritas that take tequila's exotic flavor to daring new levels of sassy and spicy goodness.
Some say that margaritas are the most popular cocktail, with Americans consuming an average of 185,000 margaritas per hour (Brown-Forman, 2008). As if going out for margaritas wasn't an adventure already, Bahama Breeze invites guests to escape to the Islands for a brand-new Caribbean-twist on the classic cocktail, featuring six authentic island flavors. This year, to add to the Viva la 'Rita fun, Bahama Breeze has brought Margarita Mondays to the mix. Guests can make Mondays during Viva la 'Rita the best day of the week with $20 pitchers of all of the new margaritas. Viva la 'Rita kicks off its first Margarita Monday celebration on National Margarita Day on Monday, February 22 and the event runs through April 10.
The island party is complete with live music, games and giveaways and is the perfect destination for any girls' night out celebration.
"Our Caribbean-style margaritas give guests the opportunity to be a little adventurous, with flavors like tamarind or hibiscus, while also embracing traditional fruits like mango," said Michael Kneidinger, Bahama Breeze President. "These new margaritas offer an exciting island escape that guests can only experience at Bahama Breeze."
Bahama Breeze's limited-edition menu embraces both the exotic and familiar flavors of an island getaway:
Grilled Pineapple Margarita: 1800 Reposado, charred pineapple puree, sugarcane juice with notes of almond, ginger cloves and lime
Hibiscus Margarita: Sauza Silver, hibiscus and sugarcane juice
Key Lime Pie Margarita: Sauza Silver, Nellie and Joe's Famous Key West Lime Juice, pressed sugarcane, topped with whipped meringue
Tamarind Margarita: 1800 Reposado, Cointreau, tamarind puree and sugarcane juice
MangoRita: Sauza Silver, Domaine de Canton ginger, mango puree and a chili-mango skewer
Watermelon Jalapeño Margarita: Lunazul Blanco, fresh watermelon and jalapeño
Not sure which one to try first? The Three Little 'Ritas flight will feature mini versions of the Grilled Pineapple, Hibiscus and Key Lime Pie margaritas. Guests can also take a tequila flight to paradise, featuring three premium tequilas served in the traditional Mexican way with six 'sangrita' backs: Lunazul Blanco with a smoky fruit punch, Partida Reposado with tomato sangria and Tres Agaves Añejo with a limón back.
To continue the celebration, Bahama Breeze is giving away a getaway for a winner and a friend to Viva la 'Rita their own way – a seven day luxury cruise to the Caribbean – courtesy of Bahama Breeze. Starting February 22nd, guests are encouraged to Viva la Selfie and post pictures of their friends and favorite 'Ritas using #VivaLaRita and #Sweepstakes, or they can also enter for a chance to win at www.VivaLaRita2016.com.
For more information about Viva la 'Rita, visit www.bahamabreeze.com/events/national-margarita-day.
###
About Bahama Breeze:
Bahama Breeze brings the feeling of a Caribbean escape, offering the food, drink and atmosphere found in the islands. The brand is known nationally for popularizing many Caribbean-inspired foods in the United States. The Bahama Breeze menu features familiar favorites, including seafood, chicken and steak, accented with the flavorful and colorful ingredients you'd find in the islands and reflecting the growing popularity of Caribbean and Latin flavors. For more information, visit www.bahamabreeze.com.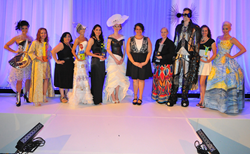 http://www.multivu.com/players/English/7749051-bahama-breeze-viva-la-rita/