Theo nguồn tin trên trang mạng của prweb.com
ORLANDO, FL (PRWEB) MARCH 14, 2016
WHAT: Following a successful five years of performing in residence at the Sheraton Vistana Resort, Central Florida's award-winning magic and comedy team "Magic and Mayhem Productions" is taking its much-loved show to Fat Fish Blue at The Orlando Improv and launching a special public show for all audiences near and far to enjoy. This new show will feature Magic and Mayhem's signature amazing magic, hilarious comedy and audience participation to delight everyone. All ages are welcome.
WHEN: Friday, April 8, 2016. Doors open at 6pm. Show starts at 7pm.
WHERE: Fat Fish Blue Restaurant located at The Orlando Improv, Pointe Orlando, 9101 International Drive, Orlando, FL 32819.
HOW: Tickets are $10. Purchase at box office or in advance: http://www.TheImprovOrlando.com.
WHO: Founded by award-winning magician James Songster in 1997, the locally owned and operated Magic and Mayhem Productions comprises a diverse team of talented and entertaining performers. Each year, Magic and Mayhem Productions presents over 400 performances of engaging, family-friendly and theatrical comedy magic at a variety of venues including festivals, special events and banquets. They also offer corporate workshops and seminars and provide custom magic-based team building exercises.
WHY: Magic and Mayhem Productions includes customizable theater-style experiences for any size group, organization and visitors to Central Florida through one of the many Central Florida tour operators. For groups and associations looking to have the magic come to them, Magic and Mayhem Productions offers the professionalism, adaptability and appropriate fun Central Florida is famous for.
For more news and information on Magic and Mayhem's comedy magic show offerings and for booking inquiries, visit http://www.MagicandMayhemShow.com or call 407-222-4412.
###
MEDIA CONTACT: Ilene Lieber, Passion PR Consulting, 321-277-7812, ilene(at)passionprconsulting(dot)com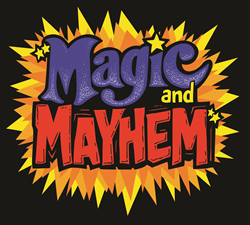 http://www.prweb.com/releases/2016/03/prweb13264398.htm