Theo nguồn tin trên trang mạng của prweb.com.
Arias Bosinger, PLLC Voted Among Florida's Top Community Association Law Firms
ORLANDO, FLORIDA (PRWEB) MAY 09, 2016
ballball™ Yoga Gear and Activewear is the first-of-its-kind to offer the largest volume and variety of yoga-centric activewear brands and gear in the United States, with a heavy focus on personalized customer service and community involvement. The store's location is strategically positioned in the burgeoning Uptown Altamonte district, just north of downtown Orlando.
According to Bloomberg, "The U.S. apparel industry, battered by a slowdown in mall traffic and stagnant wage growth, is still seeing one category thrive: athleisure. The clothing, which combines athletic and leisure wear, is propelling sales — thanks to more Americans wearing workout-style gear whether they're working out or not. An increasing number of women are sporting yoga pants and dressy sweat pants rather than jeans or slacks. And for many guys, sneakers and hoodies have become workwear."
Largest Selection and Variety
With the opening of ballball, owner and founder John White's career has come full circle; combining a balance of acute business acumen and a passion for a healthy and active lifestyle. With a blended legal, business, marketing and health background, White identified a growth opportunity in the athleisure industry and plans for several more ballball retail locations throughout Florida and beyond.
"ballball was created to provide a high touch and trial experience through actual product presentation, versus online shopping, which includes the store's mini-yoga staging area and dressing rooms, complete with bamboo flooring and mirrors, giving the consumer a true yoga mat and apparel testing experience. We offer in-store yoga sessions in partnership with area yoga instructors and studios, in addition to participating in numerous community events to serve as a complete resource for all yoga and activewear needs," said White.
ballball consumers find more brands of yoga-centric attire, gear, lifestyle items and accessories than in any other store or studio, ranging from major brands to unique local lines. With the largest selection of demonstration mats of any store, dedicated yoga-studio-styled changing rooms and a studio-like staging area, shoppers experience the only true yoga mat and apparel fitting and testing process, providing the ultimate experience in custom fitting.
Barrier to None Donation-Based Yoga Practice
Additionally, ballball hosts Barrier to None donation-based yoga practices. Guests are invited to try yoga for the first time or advance their existing practice with a 75-minute class starting with light stretches, working to a moderate level of vigor, a few minutes of intensity, followed by relaxation – all set to inspiring music. The ballball store opens early for private shopping for class participants. Visit ballball.com and like on Facebook for the current event schedule.
Yogavated™
"This wear-anywhere, sports-influenced clothing is the rare trend that bubbled up from the mass market to the high end, instead of the other way around," reported The Wall Street Journal.
With keen foresight on this trend, White and nephew, Travis Strote joined forces to expand the retail store offerings by collaborating with local companies and artists who also share the vision of excellence in yoga, activewear and athleisure clothing. Together, with emerging New York-based fashion designer Haley Byfield, they debut the Yogavated line this spring.
The private line, launched by ballball, connects fashion with the arts by collaborating with local artists, to create apparel that combines beauty with extreme functionality for the yoga, athleisure and activewear market. Each limited-edition line, features original designs that showcase unique meanings, symbolism and expression. By combining artists with talented designers, Yogavated connects art and practice with fashion. Yogavated is…the art of motivation.
Learn more about ballball at http://www.ballballyoga.com; Facebook and Instagram and Twitter @ballball_yoga.
Learn more about Yogavated on Facebook, on Instagram @_Yogavated_ and on Twitter @Yogavated.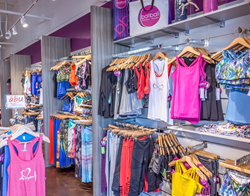 http://www.prweb.com/releases/2016/05/prweb13398045.htm