Orlando Region will host a fundraiser to benefit the mission of the Franciscan Foundation for the Holy Land.
https://youtu.be/Gjjqd0SxNEM
(PRWEB) AUGUST 18, 2016
The Orlando, Florida region of the Franciscan Foundation for the Holy Land has big news!
The Franciscan Foundation for the Holy Land (FFHL) was founded in 1994 to help preserve the Christian presence in the Holy Land, a presence that has been dwindling for decades because of those underlying conflicts. There are approximately 150,000 Christians living in the Holy Land. Due to the severe political and economic hardships, an estimated 350 Christian families leave the Holy Land each year.
The Orlando Region of the FFHL has been active since 2004 and has hosted many events, dinners and social gatherings to raise funds and awareness for the work of the FFHL.
One specific FFHL program the Orlando Region supports is the Bethlehem Christmas Program. Every year, the region raises funds to help the FFHL provide young people living, in times of economic strife, with the joy of a special gift during the Christmas season. The region also supports young students by providing them with University Scholarships.
This year, the Orlando Region of the the FFHL will hold its fundraising dinner on Saturday, September, 10th at the Westin Lake Mary in Orlando North, Florida.
"We support the Franciscans because they have always been the 'hands and feet' of Jesus, serving the local community, especially the vulnerable and marginalized in the Holy Land," said Faith Libbe, FFHL Orlando Regional Representative. "A Holy Land without a Christian presence would most likely result in the sacred Christian sites becoming museums, instead of places of worship."
The keynote speaker for the evening will be Fr. Peter Vasko, ofm, FFHL President. He will be giving an update on the Christians living in the Holy Land and what the FFHL is doing to help them.
"Events like this fundraising dinner are important," said Libbe. "The Holy Land is the birth place of our Christian faith, the land where Jesus Christ was born, lived and died. Our support is vital for Christians in the Holy Land."
Reservations can be made by contacting Faith Libbe by email at faithalibbe@gmail.com.
More information about the Franciscan Foundation for the Holy Land and the work being done by Franciscans in the Holy Land can be found at http://www.ffhl.org/.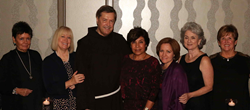 http://www.prweb.com/releases/2016/08/prweb13618936.htm