Theo nguồn tin Miss America Opportunity trên trang mạng của prnewswire.com
Mang lại điều kỳ diệu của cuộc thi Hoa hậu Mỹ cho Nhà hát Walt Disney ở Orlando, tháng 1 năm 2024!
ORLANDO, Florida
Ngày 18 tháng 10 năm 2023
Trụ sở chính của Miss America thông báo cuộc thi Miss America và Miss America dành cho Thanh thiếu niên năm 2024 sẽ diễn ra trong bối cảnh kỳ diệu của Nhà hát Walt Disney, một sân khấu Broadway hiện đại nhà hát ở Trung tâm Biểu diễn Nghệ thuật Tiến sĩ Phillips của Orlando. Tất cả các buổi diễn sẽ được tổ chức từ ngày 8 tháng 1 đến ngày 14 tháng 1. Vé sẽ được bán vào đầu tháng 11 năm 2023.
Các đại biểu của các bang trên khắp nước Mỹ và Quận Columbia sẽ cạnh tranh để giành vương miện cuối cùng. Sau cuộc phỏng vấn cá nhân và ba đêm sơ khảo đầy hành động thể hiện tài năng, thể hình và trang phục dạ hội, hai phụ nữ trẻ sẽ đăng quang trong các buổi trình diễn chung kết vào Thứ Bảy, ngày 13 tháng 1 và Chủ nhật, ngày 14 tháng 1 năm 2024.
Mỗi năm, sự kiện mang tính biểu tượng hơn 100 năm tuổi này trao hơn năm triệu đô la học bổng tiền mặt và hàng triệu hiện vật khác thông qua các sự kiện địa phương/tiểu bang và quốc gia. Đại sứ mới được chọn cho Hoa hậu Mỹ giành được cơ hội đi du lịch Mỹ và được trao học bổng 50.000 USD. Miss America's Teen 2024 nhận được học bổng trị giá 25.000 USD hoặc có thể chọn học bổng 4 năm tại Đại học Alabama, ngôi nhà của "Bama Rush" nổi tiếng TikTok.
Nhà hát Walt Disney là địa điểm lớn nhất tại Trung tâm Biểu diễn Nghệ thuật Dr. Phillips, với sức chứa hơn 2.700 người. Cơ sở vật chất hiện đại cho phép Nhà hát Walt Disney tổ chức nhiều sự kiện khác nhau, bao gồm các buổi biểu diễn ở Broadway, buổi hòa nhạc và hội nghị.
Bringing Back the Magic of the Miss America Competition to The Walt Disney Theater in Orlando, January 2024!
ORLANDO, Fla., Oct. 18, 2023 /PRNewswire/ — Miss America Headquarters announces the 2024 Miss America & Miss America's Teen competitions to take place in the magical setting of the Walt Disney Theater, a state-of-the-art Broadway theater in Orlando's Dr. Phillips Center for the Performing Arts. All shows will be held from January 8th – January 14th. Tickets go on sale early November 2023.
State delegates across America and the District of Columbia will compete for the ultimate crown. Following a personal interview, and three action-packed preliminary nights showcasing talent, fitness, and eveningwear, two young women will be crowned during the final shows Saturday, January 13, and Sunday, January 14, 2024.
Each year the 100+ year old iconic event awards more than five million dollars in cash scholarships and millions more in-kind through local/state and national events. The new ambassador selected for Miss America wins the opportunity to travel America and is awarded $50,000 in tuition scholarship. Miss America's Teen 2024 receives $25,000 in tuition scholarship or may elect a four-year scholarship at the University of Alabama, home to the TikTok famous "Bama Rush".
The Walt Disney Theater is the largest venue at the Dr. Phillips Center for the Performing Arts, with seating capacity of 2,700+. The state-of-the-art facilities enable Walt Disney Theatre to host many different events, including Broadway shows, music concerts and conferences.
About the Miss America Brand
The Miss America brand mission is "Empowering Women to Lead" in every area of life from philanthropy, business, arts, politics, education and more. Miss America and Miss America's Teen local and state ambassadors contribute thousands of community service hours annually, raising funds for philanthropic partners.
About the Dr. Phillips Center for the Performing Arts
As a private non-profit 501(c)(3) organization the Dr. Phillips Center for the Performing Arts in downtown Orlando is supported by the City of Orlando, Orange County, the City of Winter Park, the State of Florida, and generous donors. The 698,312 square foot venue includes performance spaces like the Walt Disney Theater, the Alexis & Jim Pugh Theater, the Steinmetz Hall, and opening in 2024, Judson's.
Contact:
Mack Hopper
Email:
Press@MissAmerica.org
Phone:
917-239-7401
SOURCE The Miss America Opportunity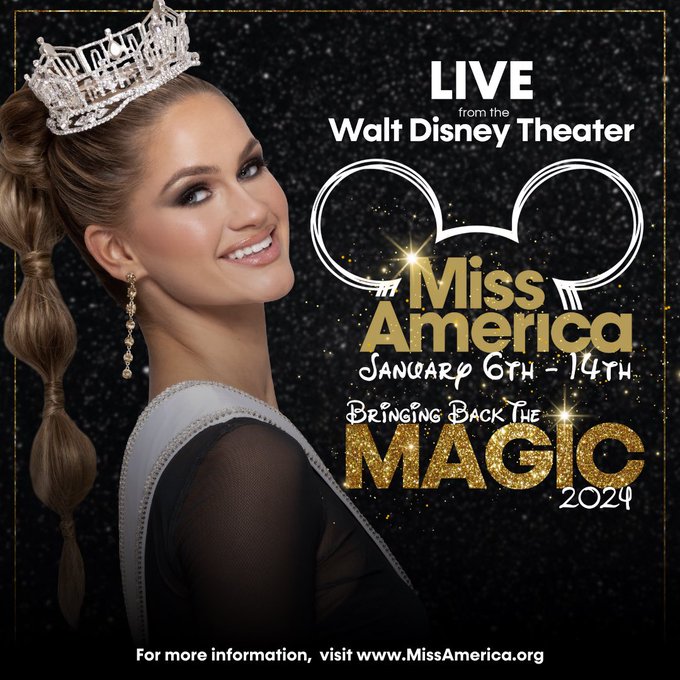 Note: We are not responsible for typo error, price change, substitute item, or available of item from online ads.
Lưu ý: Chúng tôi không chịu trách nhiệm về lỗi ấn, thay đổi giá, hàng thay thế, hoặc có sẵn mặt hàng quảng cáo.
https://www.prnewswire.com/news-releases/bringing-back-the-magic-of-the-miss-america-competition-to-the-walt-disney-theater-in-orlando-january-2024-301959681.html