Theo nguồn tin trên trang mạng của Greater Orlando Aviation Authority
Orlando International Airport MCO welcomes newestinternational airline, Viva Aerobus
Mexican carrier launches nonstop flights to Monterrey, Nuevo Leon and Merida, Yucatan;
tickets are now on sale
Orlando, Florida. – October 3, 2023: – Ultra-low-cost Mexican carrier Viva Aerobus announced today its
arrival to Orlando (MCO) by launching two nonstop routes to Monterrey, Nuevo Leon and Merida, Yucatan.
Starting on May 9, 2024, year-round service to Monterrey will operate three days per week; and flights to
Merida will begin on July 01, 2024; also, three times weekly. The airline is a new entrant at MCO and these
routes build on Viva's expansion into the US. Tickets are already available offering one-way fares for as low as
USD $89 plus taxes.
"It is so exciting to welcome Viva Aerobus to begin service from Orlando to new destinations in beautiful
Mexico," said Kevin J. Thibault, Chief Executive Officer of the Greater Orlando Aviation Authority, which
operates Orlando International Airport. "The decision to grow their business is a win for international travelers
and offers an opportunity to promote tourism here and abroad."
The Federal Aviation Administration (FAA) recently reinstated Mexico's aviation safety rating to the highest
level and now Mexico airlines may operate under a Category 1 safety rating.
"We are excited to start flying to new cities in the US as part of our major expansion strategy in this country,
encouraging passengers to take advantage of our increased connectivity, low fares and modern fleet", said
Juan Carlos Zuazua, CEO of Viva Aerobus. "This new route not only connects two individual cities but provides
O-Town passengers with a wide range of connecting flights that link Monterrey and Merida to over 30 key
destinations to discover Mexico. It also represents more opportunities for Mexican travelers to enjoy The City
Beautiful, serving leisure, VFR, and business markets; thus, boosting local tourism and economy", he added.
Founded in 2006, Viva Aerobus will land in Orlando International Airport MCO with options for passengers
that go beyond low fares. The carrier gives passengers the possibility to customize travel to their needs and
budget; the opportunity to fly in the youngest fleet in Mexico and 4th in all North America, made up of 78
Airbus aircraft; and offers its loyalty and reward program, Doters, which makes flying easier and with more
benefits.
Nonstop flights between Orlando and Monterrey are scheduled to take off from Monterrey at 8:35am on
Thursdays, Saturdays, and Sundays with return flights from Orlando at 2:50pm. Flights between Orlando and
Merida are scheduled to take off from Merida at 12:30pm on Mondays, Wednesdays & Fridays with return
flights from Orlando at 5:10pm landing in this Mexican City at 5:25 p.m. on the same days.
Both routes will be serviced by the airline's family of Airbus A320 aircraft, which boasts the largest single-aisle
cabin in the skies, giving passengers more space, wider seats, and larger overhead compartments.
Tickets are on sale now www.vivaaerobus.com/en-us.
# # #
~
~
ORLANDO
INTERNATIONAL
AIRPORT MCO
About Viva Aerobus
Viva Aerobus is Mexico's ultra-low-cost airline. It started operations in 2006 and today it operates the youngest Latin
American fleet with 78 Airbus: 45 Airbus A320 and 33 Airbus A321. With a clear vision to give all people the opportunity
to fly, Viva Aerobus has democratized the airline industry with the lowest fares in Mexico and the lowest cost structure in
America, making their flights the best value offer. For more information please visit: www.vivaaerobus.com/en
For more information please contact Walfred Castro, Corporate Communication Director, Viva Aerobus
walfred.castro@vivaaerobus.com / Tarssis Dessavre, Account executive for Viva Aerobus of PRoa Structura:
tdo@proa.structura.com.mx / Mobile. +52 1 55 2751 1709
About Orlando International Airport MCO
The Greater Orlando Aviation Authority is proud to operate Orlando International Airport (MCO) and Orlando Executive
Airport (ORL), two of Florida's premier air travel gateways. MCO is a world-class global connector, serving more than 50
million annual passengers in 2022. The recently-opened Terminal C is a next level facility that will add 10-12 million
annual passengers of capacity and elevate the customer experience. ORL is conveniently located just miles from
downtown Orlando and provides vital general aviation access to the heart of the region.
For more information please contact Angela Starke or Rod Johnson in the Office of Public Affairs at the Greater Orlando
Aviation Authority at 407-825-2055 or email us at MCOPIO@goaa.org.
###
Sân bay quốc tế Orlando MCO chào đón hãng hàng không quốc tế mới nhất, Viva Aerobus
Hãng hàng không Mexico triển khai các chuyến bay thẳng đến Monterrey, Nuevo Leon và Merida, Yucatan;
Vé hiện đang được bán
Orlando Florida. – Ngày 3 tháng 10 năm 2023: – Hãng hàng không Viva Aerobus của Mexico giá cực rẻ hôm nay công bố
đến Orlando (MCO) bằng cách triển khai hai tuyến bay thẳng đến Monterrey, Nuevo Leon và Merida, Yucatan.
Bắt đầu từ ngày 9 tháng 5 năm 2024 tuyến quanh năm đến Monterrey sẽ hoạt động ba ngày mỗi tuần và các chuyến bay tới
Merida sẽ bắt đầu vào ngày 01 tháng 7 năm 2024; Ngoài ra ba lần mỗi tuần. Hãng hàng không này là một thành viên mới tham gia MCO và những các tuyến đường được xây dựng dựa trên việc mở rộng của Viva sang Hoa Kỳ. Vé đã có sẵn cung cấp giá vé một chiều với mức giá thấp nhất89 USD cộng thuế.
"Thật vui mừng được chào đón Viva Aerobus bắt đầu dịch vụ từ Orlando đến những điểm đến mới ở những thành phố xinh đẹp.
Mexico," Kevin J. Thibault (Giám đốc điều hành của Cơ quan Hàng không Greater Orlando là điều hành Sân bay Quốc tế Orlando) nói.
. "Quyết định phát triển kinh doanh là một thắng lợi cho du khách quốc tế và mang đến cơ hội quảng bá du lịch trong và ngoài nước."
Cục Hàng không Liên bang (FAA) gần đây đã khôi phục xếp hạng an toàn hàng không của Mexico lên mức cao nhất
cấp độ và bây giờ các hãng hàng không Mexico có thể hoạt động theo xếp hạng an toàn Loại 1.
"Chúng tôi rất vui mừng được bắt đầu bay đến các thành phố mới ở Hoa Kỳ như một phần trong chiến lược mở rộng quy mô lớn của chúng tôi tại đất nước này, khuyến khích hành khách tận dụng khả năng kết nối ngày càng tăng, giá vé thấp và đội tàu hiện đại của chúng tôi", Juan Carlos Zuazua (Giám đốc điều hành của Viva Aerobus) nói. "Tuyến đường mới này không chỉ kết nối hai thành phố riêng lẻ mà còn cung cấp
Hành khách O-Town với nhiều chuyến bay kết nối nối Monterrey và Merida với hơn 30 điểm chính địa điểm khám phá Mexico. Nó cũng mang lại nhiều cơ hội hơn cho du khách Mexico thưởng thức Thành phố Đẹp, phục vụ thị trường giải trí, VFR, kinh doanh; do đó, thúc đẩy du lịch và kinh tế địa phương", ông nói thêm.
Được thành lập vào năm 2006, Viva Aerobus sẽ hạ cánh tại Sân bay Quốc tế Orlando MCO với nhiều lựa chọn cho hành khách
vượt xa giá vé thấp. Hãng vận chuyển cung cấp cho hành khách khả năng tùy chỉnh chuyến đi theo nhu cầu của họ và
ngân sách; cơ hội bay trong đội bay trẻ nhất ở Mexico và thứ 4 trên toàn Bắc Mỹ, gồm 78 người
máy bay Airbus; và cung cấp chương trình phần thưởng và lòng trung thành của mình, Doters, giúp việc bay trở nên dễ dàng hơn và có nhiều lợi ích hơn
những lợi ích.
Các chuyến bay thẳng giữa Orlando và Monterrey dự kiến cất cánh từ Monterrey lúc 8:35 sáng ngày
Thứ Năm, Thứ Bảy và Chủ nhật với chuyến bay khứ hồi từ Orlando lúc 2:50 chiều. Các chuyến bay giữa Orlando và
Merida dự kiến cất cánh từ Merida lúc 12:30 trưa các ngày thứ Hai, thứ Tư và thứ Sáu và có chuyến khứ hồi
các chuyến bay từ Orlando lúc 5:10 chiều hạ cánh xuống Thành phố Mexico này lúc 5:25 chiều. vào những ngày giống nhau.
Cả hai tuyến sẽ được phục vụ bởi dòng máy bay Airbus A320 của hãng, hãng có đường bay một lối đi lớn nhất
cabin trên bầu trời, mang đến cho hành khách nhiều không gian hơn, chỗ ngồi rộng hơn và khoang chứa hành lý trên cao lớn hơn.
Vé hiện đang được bán tại www.vivaaerobus.com/en-us.
# # #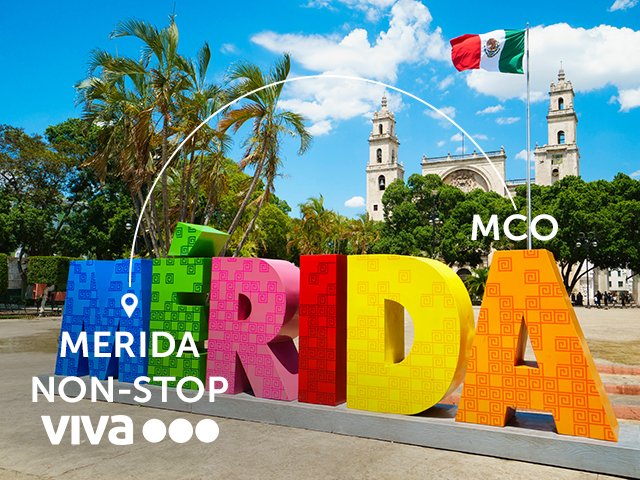 https://orlandoairports.net/site/uploads/Viva-Aerobus-20231003.pdf