Theo nguồn tin trên trang mạng của prweb.com.
Play a Part in History and Enjoy the Best in Baby Gear at the 1st Annual Baby Bellies & Beyond Expo
Orlando, FL (PRWEB) April 01, 2015
Baby Bellies & Beyond Baby Expo, the consumer show dedicated to providing the latest information on the top products and services to new and expecting parents, will attempt to set the Guinness World Records title for "Mommy Moments" – the largest gathering of pregnant women, as part of the 1st annual Baby Bellies & Beyond Expo Orlando on Sunday, April 19th. Registration begins at 10am, and the Guinness World Record will commence at 11:00am with actual record counting beginning at 11:45pm and completed by 12pm. A record adjudicator will verify the record immediately. While being a part of history, participants will also get to enjoy entertainment and a variety of activities, including having the opportunity to "crack the vault" and get their hands on keys to a brand-new Dodge Durango, raffle prizes from Babies "R" Us and a variety of delicious refreshments from popular food trucks.
The current record was set in 2007 in South Africa with 1,164 as the total number to beat. To participate, expectant mothers must be at least 16 years of age and a minimum of 12 weeks gestation, verifiable with a sonogram image or an official doctor's note. On the morning of the attempt, they are to gather at the South parking lot of Florida Mall, across from the Florida Hotel & Conference Center. World record participation is free, and participants who register in advance will receive a coupon code for $2 off the Baby Bellies & Beyond Expo held inside the Florida Mall & Conference Center directly following the attempt.
From 12pm-6pm, the 1st annual Baby Bellies & Beyond Expo hosted by Laura Diaz of XL 106.7's "Johnny's House," will feature top baby brands like Jessica Alba's The Honest Company with her mom Cathy Alba exhibiting their company's latest products, Stokké's 300+sqft exhibit space, Stroller Test Track where attendees may try out some of the best strollers, free 3D/4D Ultrasounds by Prenatal Impressions, in addition to exclusive deals, awesome giveaways, prizes and greater access than ever before to the latest advice. The Expo is held in partnership with Winnie Palmer Hospital for Women & Babies and Arnold Palmer Hospital for Children.
Event Producer Anthony Palafox of SocialEyes Brands dubs the event as "Central Florida's premier baby event." He continues, "Baby Bellies & Beyond Baby Expo is focused on providing a unique experience where new and expecting parents can engage, interact and learn directly from the representatives of the best brands. We are excited to kick off the day and be a part of history hopefully breaking the world record, and we hope all our participants stay after and enjoy the expo where we're bringing top vendors, manufacturers and experts in the industry to showcase their products for consumers just like them."
To register in advance to be a part of "Mommy Moments" – Guinness World Records title for the largest gathering of pregnant women, and for more information, visit http://www.babybelliesandbeyond.com/mommy-moments/. (Note: While participants are encouraged to register in advance, they can still do so on site as long as they bring the required evidence for verification.) Regular priced tickets for Baby Bellies & Beyond Expo are $10 per person and $15 per couple in advance or $15 per person and $25 per couple at the door. The Florida Hotel & Conference Center is located at 1500 Sand Lake Road, Orlando, 32809. For more information on Baby Bellies & Beyond Expo, visit http://www.babybelliesandbeyond.com. For additional inquiries, contact apalafox(at)socialeyesbrands(dot)com.

###
Media Contact: Ilene Lieber, 321-277-7812, ilene(at)passionprconsulting(dot)com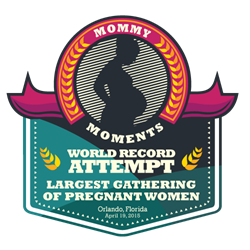 http://www.prweb.com/releases/2015/04/prweb12625950.htm