Theo nguồn tin trên trang mạng của prweb.com.
The Mall at Millenia's personal shopping experience has developed a fan base, and with many iconic brands now elevating this luxe service, global shoppers will have more reasons to seek out Orlando's premier shopping destination.
Orlando, Florida (PRWEB) May 13, 2015
The Mall at Millenia Gets Personal

Luxury brands deliver equally opulent services for shoppers.
If great shopping is an art form, then the expanded services of personal shoppers at the stores of The Mall at Millenia are the new masters.
A personal shopper serves as the link between guests and their wardrobes. Sure, they gauge a proper fit, identify trends, and customize overall looks that work best for their clients. But at The Mall at Millenia, the experience is so much more than that.
Personal shoppers help mall guests define their own individual styles. They also do the legwork. By saving clients time, educating, and offering advice, they elevate what is already a luxe experience to a delightful exercise in pampering and the art of shopping.
Mall-Wide Luxury

While department stores have a long tradition of offering excellent personal shopping experiences, new opportunities abound throughout The Mall at Millenia.
Boutiques like Saint Laurent and Chanel, which will reopen its doors this spring with the store's new, ready-to-wear-line, will also house expert stylists who are ready to educate clients on their respective brands, the current season's collection, as well as on how to select complimentary pieces.
Perhaps you already have the perfect leather jacket, but would like to learn how to style it so it carries from day to night. This is where a personal shopper or stylist steps in.
A plush environment is also part of The Mall at Millenia's enhanced, elevated level of customer service. Neiman Marcus, Bloomingdale's, and Macy's provide completely separate areas for personal shopping, enabling stylists to coordinate a brand-new look for guests, from head to toe, in privacy.
On the second floor of Neiman Marcus, guests are whisked to a private, personal shopping section equipped with lavish furnishings, beautiful décor, and a private kitchen. There, they are ushered into their own reserved fitting room – one of four – housing all of the shopper's selections. Attentive personal shoppers adhere to each guest's wants and ensure that no matter the request, their client is left feeling content and pampered. Meanwhile, guests are waited on hand and foot, provided with refreshments and libations.
For both men and women, The Mall at Millenia's select boutiques now offer this elite yet accessible experience. Shops including Louis Vuitton, Emporio Armani, Burberry, Tory Burch, Diesel, and kate spade new york welcome guests for a personalized wardrobe shopping experience or even act as the ultimate shopper for gifts.
Fashionably Efficient

The Mall at Millenia welcomes guests from all over the globe, many of whom have no more than a day to spend at the shopping destination. With this in mind, scheduling an appointment with a personal shopper helps make the most of their time at Millenia.
At Neiman Marcus, Bloomingdale's, and Macy's, guests may now call ahead of their planned trip to schedule time with a personal shopper. In that initial call, the shopper will take note of the client's preferred style and colors, fitting sizes, and whether or not they are selecting an ensemble for a specific event or everyday use. With this information in mind, the shopper will carefully assemble a variety of outfits — complete with shoes and accessories — and have them ready and waiting in a private fitting room for the client's arrival.
Moving swiftly in and out of the fitting room, the shopper will attend to guests' requests and procure additions for their newfound wardrobe. This way, a full day's worth of shopping is accomplished in a matter of hours.
Priceless Experience

Millenia's personal shopping experience has developed a fan base, and with many iconic brands now elevating this luxe service, global shoppers will have more reasons to seek out Orlando's premier shopping destination. Mall goers find themselves returning again and again to their favorite stores. With each visit, they expand their fashion knowledge with a greater understanding and awareness of their personal style, tailoring, accessorizing, and current trends.
It's simple, but true, that at The Mall at Millenia, shoppers are not just customers — they are welcomed guests and aspiring fashionistas. In each store, the entire team is there to serve, to educate, and to pamper, ensuring a priceless shopping experience.
Offering the personal touch, characteristic of each brand: That's The Mall at Millenia.
About The Mall at Millenia

Conveniently located in Orlando just minutes from seven of the world's Top 10 theme parks and a quick 13 miles from Orlando International Airport, The Mall at Millenia offers a wide range of experience-enhancing services and amenities, including personal shoppers, trunk and fashion shows, special signature events, salons, valet parking, taxi service, a full-service concierge, currency exchange, multilingual staff, and VIP "meet and greet" program, as well as an on-site U.S. post office and complimentary Mall Wi-Fi. Daily shopping hours are Monday through Saturday from 10 a.m. until 9 p.m. and Sunday from 11 a.m. until 7 p.m. Many restaurants are open through midnight daily.
For more information, call (407) 363-3555 or visit the mall's multilingual website at MallatMillenia.com.
About The Forbes Company

Based in Southfield, Mich., The Forbes Company is a nationally recognized owner, developer, and manager of distinctive regional shopping centers that provide exceptional retail experiences in each of their respective markets. For more information, please visit TheForbesCompany.com
About Taubman Centers, Inc.

Taubman Centers, Inc., a real estate investments trust, owns, develops, acquires, and operates regional shopping centers nationally. Taubman Centers currently owns and/or manages 22 urban and suburban regional and super regional shopping centers in 10 states. Taubman Centers is headquartered in Bloomfield Hills, Mich. Visit Taubman.com.
Brenda Lounsberry, Marketing Director

blounsberry(at)mallatmillenia(dot)com

Tel. 407-363-5338; Fax. 407-363-6877
Christine Haughney, Tourism Marketing Director

chaughney(at)mallatmillenia(dot)com

Tel. 407-363-5338; Fax. 407-363-6877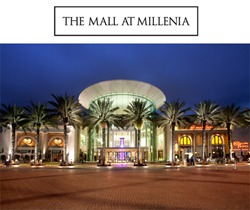 http://www.prweb.com/releases/2015/05/prweb12717392.htm