Theo nguồn tin trên trang mạng của prweb.com.
Outdoor kitchens are now top of the list of the most popular new home improvement trends that enrich outdoor living and maximize home value. Elite Outdoor Kitchens, the Orlando's premier outdoor kitchen specialists make it happen, announcing today the latest trends and products for outdoor kitchen solutions.
The outdoor kitchen is one of the hottest trends in outdoor lifestyle nationwide and in Florida, specifically. Though recent interest in real estate has focused on the open floor plan, bringing the outside in, growing numbers of buyers and remodelers are taking the inside out with the gourmet kitchen outside.
HGTV says the outdoor kitchen brings the heart of home into the open air and extends the home's living space. It's time to move beyond the traditional barbecue grill. Key trends include accessorizing with beverage center style refrigerators, infrared grills and pizza ovens, warming drawers, wine coolers, custom cabinetry, multiple prep and double basin sinks, barbecues with additional accessories, and even kegerators for serving beer. It's now possible to create an outdoor kitchen that can serve all the needs of professional chefs, while remaining close to the pool area or fire pit for entertaining.
"The fully appointed outdoor kitchen adds design appeal, entertainment sizzle, and instant resale value to your home," explains John Digioia of Elite Outdoor Kitchens. "Outdoor kitchens are the height of convenience, as well. They allow the cook to store cooking items, even foods, outdoors where they are easily and quickly accessed for cooking."
Elite offers a wide range of products, including cabinetry, granite countertops, furniture, tables, planters, fireplaces, fire pits, pergolas, stainless appliances, natural seating, and so much more. Their products give customers the flexibility to create and design almost anything imaginable.
###
About Elite Outdoor Kitchens

Elite Outdoor Kitchens specializes in custom outdoor kitchens, bars and fire places. No matter your budget or project, Elite can build it all. Interested in custom cooking stations, like Asian Wok cooking or South American Wood burning grills, contact us. We turn your outdoor dreams into reality. For more information, please visit us at http://eliteoutdoorkitchens.com or https://www.facebook.com/pages/Elite-Outdoor-Kitchens/110382729000862. Please feel free to call for a free estimate at (407)715-4392
About NALA™

The NALA is a full-service marketing agency providing custom personalized service for small and medium-sized businesses throughout the United States.
Media Contacts:

the NALA

news(at)thenala(dot)com

805.650.6121, ext. 361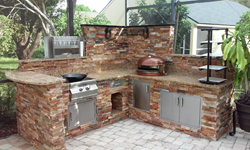 http://www.prweb.com/releases/EliteOutdoorKitchens/TurnUpHeatonOrlandoHome/prweb12814464.htm