Theo nguồn tin trên trang mạng của prweb.com.
What Is the Result of a 10-Year Marketing Partnership? Millions in Revenue, Thousands of Slimings
When is green slime a major selling point for a property's most valued market? At Nickelodeon Suites Resort, the "official SLIME hotel" of Orlando, Florida. SpongeBob, Teenage Mutant Ninja Turtles, and an activity list that reads like kid heaven keep families returning to the "wild, wacky" destination resort.
But, marketing is serious business at the Nickelodeon Suites Resort, aka the Nick Hotel. Its digital marketing for hotels ensures its whimsical style of family fun stays on guests' radar between visits. Email and social media outreach to its prime demographic produces millions of dollars in additional revenue and phenomenal repeat business.
Once upon a time, a chain hotel became a purveyor of green goo

The Nick Hotel was once a Holiday Inn Resort. In 2005 the property converted to a family-themed independent. Nick Hotel is affiliated with Nickelodeon, the #1 children's cable channel. The property brings Nickelodeon's programming to life for guests and their families. Kids mingle with show characters and the property's Entertainment Team conducts poolside casting for nightly Double Dare LIVE shows in its very own Studio Nick. Best of all, a 400-gallon tank of Nickelodeon's signature green goo stands ready to slime courageous guests daily.
"The property's new life as a themed independent was our opportunity to innovate," says Tony Aslanian, Nickelodeon Suites Resort's director of sales, marketing & revenue strategy. The property chose Digital Alchemy for advanced CRM and targeted digital marketing. Digital Alchemy also provides secure, cloud-based data collection and warehousing to track, deliver, and retrieve guest information for effective marketing.
Digital Alchemy: The 'Power Ranger' marketing provider

"Digital Alchemy's E-Relationship tool interfaces directly with our PMS and Nick Hotel Club database," Aslanian explains. "Digital Alchemy mines guest data for stay-date preferences, favorite activities and other information to create customized email messages with very high open and response rates." The system also sends personalized automatic-response confirmations, pre-stay messages, thank you notes, and guest satisfaction surveys.
'We attribute millions of dollars in revenue to Digital Alchemy's marketing'

Aslanian said, "75% of our marketing budget is digital. Our primary marketing partner is Digital Alchemy. We meet monthly to analyze marketing campaigns and assess results. We review message effectiveness and how we utilize the data to reach target segments. We attribute millions of dollars in revenue to Digital Alchemy's email strategies. We've seen the $20,000-$30,000 in revenue from typical campaigns jump to $100,000-$150,000 with Digital Alchemy's best practices."
Prior to Digital Alchemy, Nickelodeon Suites Resorts was e-blasting to its entire database twice a month. But open rates dropped, opt-outs climbed, and ROI sagged. Digital Alchemy recommended that Aslanian's team segment campaigns based on location, past stay dates, and which guests opened property emails.
The Nick Hotel also created messages that established a conversation with recipients with an appropriate call to action. Open rates for Nick Hotel's newsletter jumped from 9.6% to 30.5% for segmented campaigns in 2015 and ROI also climbed 300% for some campaigns during this time period.
"When we include a specific benefit in the subject line, 'book now and save 20%,' the ROI jumps," says Aslanian. "The word 'free'–as in 'book one night; get one free'–also boosts ROI. Video clips generate more interaction. So does a 'book now' button."
Today the Nick Hotel focuses on mobile marketing. "A majority of guests use mobile to access our emails," says Aslanian. "The subject line is important for mobile and the first 20-30 characters must capture the recipient's attention. Digital Alchemy designed our mobile guest satisfaction survey. And we created easy 'click to call' navigation. We have an incredible open rate on mobile marketing with over 22% of our revenue booked through the mobile platform in 2015. This is a 105% increase from 2014."
Facebook campaign; draw 20x the industry standard shares

The Nick Hotel leverages social media for its current marketing success. Early Facebook testing "looks extremely promising," Aslanian says. "Digital Alchemy integrated Facebook messaging with our email campaigns. We have over 125,000 Facebook fans, a very high level of response to our messages, and a relatively low cost per 1,000. We have more than 20 times the industry standard shares for this type of campaign. Digital Alchemy is certified and experienced in social media marketing for hotels. It is a valuable marketing partner."
About Digital Alchemy

Digital Alchemy, based in Ft. Worth, Texas, is the leader in Customer Relationship Management (CRM) and email marketing solutions that increase revenue. Clients include boutique hotels, Four-and Five-Star properties, branded hotels and spas. Digital Alchemy guarantees its data-centric marketing solutions and campaigns will deliver a 400% ROI.
Founded in 1999, Digital Alchemy pioneered virtually every email-based concept used in the hospitality industry. Its email templates are mobile-optimized and it offers the industry's first Facebook-email integration to attract guests. Digital Alchemy delivers accurate real-time campaign revenue reporting to verify results. The company provides dynamic 2-way mobile messaging on one integrated platform. It creates clients' email designs in-house to free staff for other activities. Digital Alchemy innovates new solutions such as the industry's first Facebook-Email integration and integrated spa CRM functionality. Click here or more information.
About Nickelodeon Suites Resort

Located in the heart of Orlando's tourism district, Nickelodeon Suites Resort, otherwise known as the Nick Hotel, is much more than a place for guests to lay their heads at night. From two over-the-top pool complexes with slides and flumes, to live entertainment and character breakfasts featuring Nickelodeon's beloved characters, to a multimillion dollar 4-D Theater, to the colorfully themed kid suites and gallons upon gallons of slime, Nick Hotel offers non-stop activity from dawn to dusk for the entire family any time of the year. For more information about the Nick Hotel, visit http://www.nickhotel.com or call (877) NICK-KID.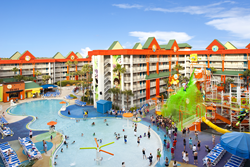 http://www.prweb.com/releases/DigitalAlchemy/emailmarketing/prweb12819294.htm