Theo nguồn tin trên trang mạng của prweb.com.
Roaming Hunger Unveils Top Food Truck Cities
Orlando remains top city with the highest number of food trucks per person over San Francisco, Los Angeles and New York. Los Angeles continues its reign as top food truck destination.
WEST HOLLYWOOD, CA (PRWEB) AUGUST 19, 2015
Roaming Hunger, the service that makes it easy to book the best food trucks for any event nationwide utilizing its network of more than 7,300 gourmet food trucks and food carts, released its annual list of the top food truck cities. This year, Orlando holds the top spot as the city with the highest number of food trucks per person at 47.06 trucks per capita, which includes The Traveling Gourmet and Wako Taco.
Outside of Orlando, people located in areas such as Miami; Ashville; Washington, DC; Minneapolis; and Charleston have more food truck catering options and a better chance of not having to wait in long lines. These cities, many of which have fewer than a million residents, are becoming prime destinations for food trucks mainly due to a vibrant food truck culture, receptiveness to food trucks as a catering option and reasonable street service regulations.
The top ten cities with the highest number of food trucks per capita are as follows:**
● Orlando, FL (47.06)
● Miami, FL (42.82)
● Asheville, NC (41.38)
● Durham, NC (39.18)
● Hamilton, OH (35.48)
● Charleston, SC (34.375)
● Washington, D.C. (29.89)
● Kauai, HI (28.57)
● Salt Lake City, UT (27.75)
● Atlanta, GA (27.68)
Alongside cities with the most food trucks, the data also showed that Los Angeles is once again the city with the most gourmet food trucks. With more than 373 food trucks including from Coolhaus, The Grilled Cheese Truck and Kogi BBQ, Los Angeles continues to be the go-to place for food trucks of all kinds.
While additional major metropolitan areas were also on the list, there were some significant appearances on the list by cities with smaller populations. Locations like Seattle, San Francisco and Denver are quickly increasing the number of food trucks in their respective areas. The top ten cities with the most food trucks are as follows:**
● Los Angeles, CA (373)
● Washington, DC (197)
● San Francisco, CA (184)
● Houston, TX (183)
● Miami, FL (179)
● Seattle, WA (173)
● Denver, CO (164)
● Phoenix, AZ (145)
● New York, NY (138)
● Dallas, TX (131)
"Whether it's locating a truck to grab lunch from or finding a truck to cater at an event, there's an increasingly high demand for food trucks nationwide," said Resnick. "This is an industry that's bringing in over a billion dollars and there are still some aspects that are relatively untapped, including the off-premise catering, which is a $150B market opportunity.
Money is not only being made from street services, but catering opportunities is really where it's at for food trucks. It's a great time for foodies and food trucks!"
**This list was comprised by pulling the current number of food trucks within Roaming Hunger's network, but does not include mobile or stationary carts.
About Roaming Hunger
Roaming Hunger is a service that makes it super easy to book the best food trucks for any event across the country. We are here to help vendors connect to eaters and vice versa. Whether it's a company party, a birthday or even a wedding, we make food truck catering and booking simple. We also have an app that connects foodies with food trucks, providing real-time tracking for more than 7,300 popular food trucks, mobile trailers and carts across the country.
Located in West Hollywood, CA, Roaming Hunger is also the go-to source for hyper-local marketing campaigns and promotions. We have executed campaigns for popular brands, including Warner Bros. Interactive Entertainment, DreamWorks, StubHub, NBC, Capital One, Spike TV, Salesforce, Ben & Jerry's, Panda Express, Saks Fifth Ave, Heineken, and musical artist Kelis.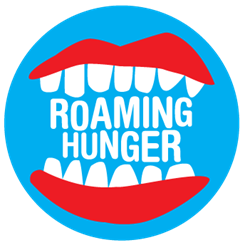 http://www.prweb.com/releases/2015/08/prweb12912261.htm