Theo nguồn tin trên trang mạng của prweb.com.
Guests can add a half rack of Baby Back Ribs for $5 from August 30 – September 3
ORLANDO, FLA. (PRWEB) AUGUST 27, 2015
Tony Roma's, world famous for its Baby Back Ribs, declares September 3 National Baby Back Ribs Day to honor the dish that made it famous. From August 30 – September 3, participating Tony Roma's restaurants will offer guests the opportunity to add a half rack of Baby Back Ribs to any entree for only $5.
"Our fans love to 'get their ribs on', and we want every guest to enjoy Tony Roma's world-famous Baby Back Ribs as we celebrate this week," said Jim Rogers, Chief Marketing Officer for Romacorp, Inc. "Add ribs to a perfectly grilled steak, our shrimp and salmon piccata, or to a full rack of ribs if you just can't get enough. And show us your 'rib face' on social media for a chance to win free Baby Back Ribs for a year!"
To participate in the 'rib face' contest, fans can upload photos of themselves to Facebook eating Tony Roma's ribs and using the hashtag #TRRibFace. The contest runs through September 2, with grand prize winners announced on Baby Back Ribs Day.
Tony Roma's helped start the Baby Back Ribs craze in the U.S. in 1972 when Chef David Smith decided to throw ribs on the grill and add his special BBQ sauce, what is now Tony Roma's famous Original BBQ Sauce. The combination was an instant hit and quickly became one of America's favorite meals.
"Today our tender, pork loin baby backs can be basted with one of five different sauces which cater to every taste bud," said Chef Bob Gallagher, Senior Vice President of Purchasing and Culinary for Romacorp, Inc. "We're proud of our ribs and very excited to create a day that is dedicated solely to this signature dish."
About Romacorp, Inc.
Romacorp, Inc., is the parent company of Tony Roma's restaurants, the world's largest casual dining concept specializing in ribs. Headquartered in Orlando, Florida, Romacorp, Inc. has more than 150 restaurant locations in more than 30 countries and is one of the most globally recognizable names in the industry. The first Tony Roma's restaurant opened more than 40 years ago in North Miami, Florida.
Romacorp, Inc. also operates their new TR Fire Grill concept, a chef-inspired American bistro in Orlando, Florida with a new location set to open September 2015 in Winter Park, Florida. For more information about Romacorp, Inc. and Tony Roma's, visit http://www.tonyromas.com. For information about our new TR Fire Grill concept, visit http://www.trfiregrill.com.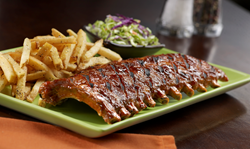 http://www.prweb.com/releases/2015/08/prweb12929009.htm