Theo nguồn tin trên trang mạng của prweb.com
Train Dory in an arts & craft magic trick that's the perfect summer activity before a Walt Disney World Vacation.
ORLANDO, FL (PRWEB) JUNE 03, 2016
Make new fish friends today with the family! BestofOrlando.com features a new creative craft idea that's inspired by Disney/Pixar's newest film, Finding Dory. See the newest video, Click Here. It's summer time, so bring out everyone's creativity with a project that's not only fun and colorful; this cool trick will teach kids a little bit about science too. It's Training Dory time.
In the DIY craft video, learn how to shock and awe friends and family with a trick that will make it seem like a loveable fish friend (cleverly made out of a ketchup package) obeys commands on the spot and swims up and down inside a bottle. Learn how to create blue tang fish, clown fish, sharks, sea turtles, and more fish friends as seen in Finding Dory and Finding Nemo. The craft idea is perfect for parents looking for a fun activity to do before a Walt Disney World vacation, where guests can now see characters from Finding Dory at Epcot's Turtle Talk with Crush. Or it's a neat magic trick to perform before or after seeing Finding Dory in theaters. For more DIY Craft ideas like getting Frozen Ice Powers, Click Here, and go to BestofOrlando.com for deals on Walt Disney World
tickets.
About BestofOrlando.com
BestofOrlando.com is operated by Entertainment Benefits Group Company (EBG) and has been providing entertainment tickets since 2001. It's the close relationships with Orlando partners that help BestofOrlando.com secure the best deals on theme park tickets, dinner shows, attractions, and hotels, so visitors can stretch their fun on their Orlando vacation. We offer the best prices online with a great customer service staff available seven days a week. Also, with the largest Vacation Center in Orlando located less than mile from the gates of Walt Disney World, we offer quick and convenient pick-up options, as well as fast and reasonable shipping options. At BestofOrlando.com, Universal Orlando Resort, Walt Disney World, SeaWorld Orlando, and much more are only a click away.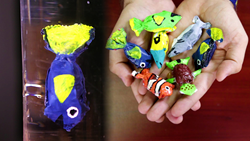 http://www.prweb.com/releases/2016/06/prweb13460893.htm