Theo nguồn tin trên trang mạng của prweb.com.
Science focused amusement park opens forensic exhibition
Orlando, Florida (PRWEB) May 19, 2015
WonderWorks is excited to announce the opening of a brand new forensic science exhibit on May 22nd 2015. This interactive forensic experience will add a unique branch of science to the multitude of other hands on activities already offered. Guests of all ages will be able to experience the real work of a forensic scientist in the following three areas: fingerprint identification, 3D Facial reconstruction, and facial recognition.
"This is our most exciting exhibit to date," said Chief Operating Officer of WonderWorks Janine Vaccarello. "We pride ourselves on ensuring that science education is a part of every exhibit we have. Forensic science is such a popular and interesting topic, we know our visiting families, schools, and locals will have the best time experiencing this new interactive!"
Forensic science is a growing topic in film and television as well as all levels of education. WonderWorks worked with many experts in the field to ensure an authentic and realistic experience for guests.
Dr. Dawnie Steadman, Director of the Forensic Anthropology Center at the University of Tennessee, spoke on her enthusiasm for the exhibit. "The key to forensic science is practical experience and we are thrilled to have WonderWorks encouraging their guests to take an interest with this new exhibit," Steadman said. "It will provide burgeoning forensic scientists of all ages the perfect opportunity to get hands-on experience to make the intricate aspects of forensic science more accessible."
WonderWorks also worked with professionals from the National Center of Missing & Exploited Children, The National Museum of Crime & Punishment, 3DSystems, and FaceCheck during development. The exhibit will bring a fresh and exciting component to WonderWorks while continuing to educate and entertain students and families alike.
To learn more about WonderWorks, visit http://www.wonderworksonline.com
###
WonderWorks, a science focused indoor amusement park, combines education and entertainment. With over 100 hands-on exhibits – there is something unique and challenging for all ages. Adventures include: The Hurricane Shack, feel the power of 71mph hurricane–force winds, The Bubble Lab, make huge, life–sized bubbles, The Astronaut Training Gyro get the NASA treatment and experience zero gravity, Nail it by lying on the death–defying Bed of Nails, Conquer your fear of heights and tackle obstacles on an indoor Glow-In-The-Dark Ropes Course, or challenge your friends to an extreme game of Laser Tag. WonderWorks also is home to The Outta Control Magic Comedy Dinner Show which features nightly live performances and includes unlimited food and beverages during the show. WonderWorks hosts birthday parties and special events seasonally. Open daily from 9 a.m. until midnight.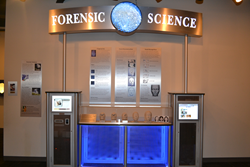 http://www.prweb.com/releases/2015/05/prweb12730307.htm